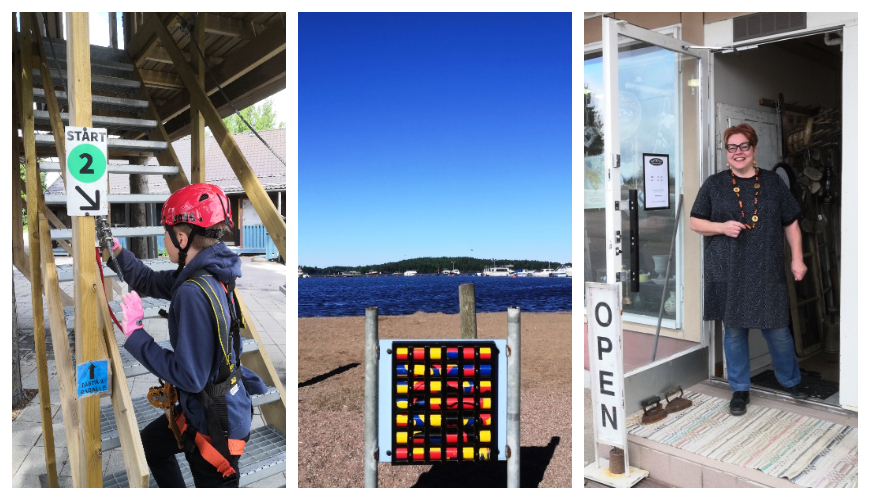 Talma Active Park, Lake Lohjanjärvi and Patinaputiikki old time shop are different kind of summer destinations - and all for people's pleasure! Photos: LikeFinland.com
Dreaming on a nice vacation in Summer Finland?
Yeah! We have answers to that question. :-) We've visited many places also in this spring and summer season 2022, and written articles in Finnish on our KivaaTekemista.fi -website.
Now you can feel a bit like a summary of the nicest places and attractions here!
In Talma Active Park you can choose the activity of your own interest. Photo: LikeFinland.com
Adventure parks in Espoo and Sipoo
We visited Talma Active Park (www) in Sipoo, northeast of Helsinki. You can challenge yourself on five different climbing tracks, which are up to 10 meters above the ground. We (one adult and 11-year child) chose the tracks 2, 3, and 4. Also the cable slides were amazing!
Some tips for the adventurer: (Note! The rules can vary between the parks.)
Remember to thread the locking ring into the safety wire/cable at the beginning of each course.
Wait until the former adventurer has passed the obstacle or slide.
Don't hold the cable with your hands during the cable slide.
Enjoy and relax!
We were positively surprised of Talma Active Park. In the same place there are also Werneri Park for small kids, Bike Park for downhill biking and E-fatbike rental. Furthermore, you can play minigolf, frisbeegolf, arrange the kids' birthdays as well as enjoy in restaurant. Did you know that Talma is a ski center in winter time.
In Leppävaara, Espoo, west of Helsinki, you can find another popular adventure park. In Treetop Adventure Huippu (www), 'Seikkailupuisto Huippu' in Finnish, you can experience both the treetop adventure as well as a beautiful adventure minigolf course with 12 holes, a tiny river and a boat. :-)
Huippu is located in an enjoyable environment of the Leppävaara sports park area, along with good public transport connections both by bus and train.
Pellavaenkeli shop in Somero provides a window into Finnish handicrafts, design, delicacies and sauna products. Photo: LikeFinland.com
Idyllic shops in countryside
In the spring we visited two nice shops in the Finnish countryside, outside of the capital area but still quite near, a bit over an hour's drive from Helsinki.
The first one was located in Tammela municipilaty, on the east side Forssa town. The shop was not in the center of Tammela but in a tiny, cosy village called Porras (a 'step of stairs' in Finnish). :-)
Patinaputiikki boutique (www) is a homely and unique store of old goods, where you can enjoy a nostalgic atmosphere. Jaana has been managing it since 2009, after working in a large retail group before that. Patinaputiikki is a nice experience of selected old time things and feeling.
If you want a bit more rock, just visit Kenkäkingi second hand shop (www) in Kerava, near Helsinki. It has one of the largest high-quality second hand jeans selections in Finland and much more nostalgic things and matters.
Then I visited Somero municipality, which belongs to the Southwestern province and is located near Salo town. It's not so far from Tammela either!
Rauni continued the former Pellavakeskus ('Linen Center') store and story, and she founded a new Pellavaenkeli - Interior design and gift shop (www) in 2020. Pellavaenkeli means a 'Linen Angel'.
In this shop you will find domestic handicrafts, design, delicacies and sauna products - not forgetting nice textiles. The products of Pellavaenkeli comes from Finland. You can also admire art exhibitions in Pellavaenkeli, changing monthly.
We can recommend also Tyykipuoti - Textile and fabric shop (www) and Keravan Muovi ja Lelu - Toy and plastic store (www), both in Kerava, as well as Jokipiin Pellava linen factory outlet (www) in Kurikka, and Reindeer meat store and Cafeteria Pörröporo (www) in Pello, Lapland.
Putsaari island in the archipelago of Uusikaupunki offers marine nature and greenery. At the foot of Kappelinvuori hill, you can find an ancient sailor's chapel, which is called a 'Hidden church'. Nearby is the Isokari lighthouse island, where you can travel on M/S Kerttu day cruise from the center of Uusikaupunki. Photos: LikeFinland.com
Nice towns like Heinola, Lohja and Uusikaupunki
Of course, the Finnish summer is full of events, both small and bigger ones.
In Heinola (www) there are idyllic cafés in old, historical buildings like Waffle Café Harjupaviljonki (www) and Heinolan Siltasaari Café (www).
In Heinola Art Museum you'll find a unique exhibition of three contemporary sculptor artists. Not forget Heinola City Museum and the Bird Park!
Lohja (www) is the municipality of big lakes on the west side of Helsinki. One of the most special nature destinations is Arboretum Magnolia (www), developed and planned by Suvi and Esa. In Tytyri Mine Experience (www) you can experience the deep tunnels but in an easy way to access, through guided tours. Note! The temperature underground is about 8 C degrees.
In Uusikaupunki (www) you can feel a long history of wooden buildings and boats, sea and cruises as well as many museums and 'Kaupunginlahti' (town bay) atmosphere.
And of course, Suomenlinna Sea Fortress (www), 15 min by ferry from the Helsinki city center is full of history, museums, services, and guided tours.
Visit Lohja! The shore of Villa Kokkokallio Café, guided tour of Tytyri Mine Experience, and an Amur maple of Arboretum Magnolia. Photos: LikeFinland.com
--
Most of the destinations presented in the article have been our media customers during the last 12 months, and we have visited and experienced them. See more LikeFinland Star Destinations here
--
Text: Henri Elo
--
LikeFinland.com is a nationwide leisure time media and search service of Finnish destinations. You can like us on Facebook or follow on Twitter and Instagram. Our main website in Finnish is KivaaTekemista.fi.