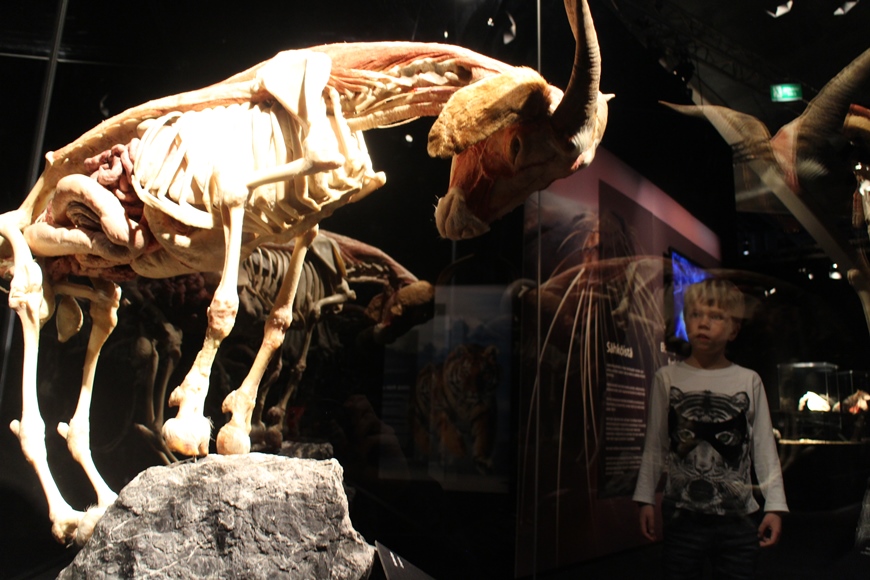 The Finnish Science Centre Heureka is one of Finland's most popular leisure time destinations for all ages. In Heureka visitors can experience the joy of discovery through spectacular exhibitions, planetarium films and events.
Heureka has four exhibition halls with interactive exhibits as well as a modern digital planetarium. The exhibition experience is available in three languages: English, Finnish and Swedish, partly also in Russian and Estonian. Heureka is located in Helsinki metropolitan area, in the heart of Vantaa city, Tikkurila, and it is open year-round.
The expanded and renewed Science Centre Heureka reopened doors to the public on 28 January, 2017.


Photo: LikeFinland.com

How Heureka has been renewed?
At first sight Heureka looks more spacious. And no wonder, after all, there is now approximately 2 000 square meters more space than before. With small changes, Heureka has succeeded in creating quite a stylish package being a traditional class trip destination. It is definitely worth a visit with foreign guests - or for you, who are planning a trip to Finland!
Heureka Classics as well as the main exhibition 'Wind in the Bowels, Intelligent City' have also experienced some degree of facelift.
In a rescue ship simulator, the task is to find a person who has fallen overboard. Photo: LikeFinland.com


A new exhibition area is clearly separated from the other spaces of Heureka. It was now easier for us to perceive the area even better. The show types of experiences, Science Theater and the Rat Basketball, have been moved behind the closed doors with certain showtimes.


A Shadow Theatre. Photo: LikeFinland.com


Body Worlds – ANIMAL INSIDE OUT
In connection with the reopening of Heureka, there was also opened a new exhibition about the anatomy of animals.
ANIMAL INSIDE OUT allows visitors to get acquainted at close range with animal anatomy, from the tiniest frog to a giraffe 5.1 metres tall and a full-size elephant. The exhibition consists of more than a hundred plastinated animal bodies and body parts.


Photo: LikeFinland.com


Thanks to a technique known as "plastination", it is possible to show the internal structure of animals in precise, authentic detail down to the level of the bones, muscles, nerves, and organs.


Elephant nervous system. Photo: LikeFinland.com


The exhibition has been created in cooperation with several universities, zoos, and teams of specialists. The animals on display were donated to the exhibition through the veterinary medicine programmes of a number or universities, and from zoos and animal welfare groups. No animal was killed or harmed for this exhibition.


A Human brain. Photo: LikeFinland.com


Other renewals in a nutshell
Film: Pandas – The Journey Home (35 min)
You will fall in love anew with this iconic, delightful creature and better understand the desperate plight of pandas in the wild.
The filmmakers of Pandas: The Journey Home were granted unprecedented access to the Wolong Panda Center in China to bring to light the extraordinary efforts of the Chinese to secure the panda's future in the wild.
Idea Area
At the Idea Area visitors can become factors instead of being just an experiencer: you can design and make small aircrafts, create stories at a Shadow Theater, and build anything you like from hundreds of wooden bricks. Apart from these, there are three interesting challenge: Build from straws, Plan a hill automobile and Create an electrical chain reaction.
Rat Castle & Rat Basketball (10 min)
Heureka's basketball rats have moved to their new home, Rat Castle. Seeing rats playing on a new fine basketball stadium is a memorable experience. At the same time "Inspirerers" of Heureka will tell you about rats and how the rats are trained.
Science Theatre Aga: Fun is in the air (20 min)
Science Theatre Aga's Science Shows are a great experience for all ages. During the show you get to see the clouds, balloons, soap bubbles as well as a poor man's saxophone.


"A thousand and one bricks" was one of children's favorites in Heureka. Photo: LikeFinland.com


There are so many things to see and experience in Heureka. One day is not enough, if you want to see and experience all that Heureka has to provide you.
It was great to notice that Heureka had built an area where children can design and create different things by themselves or together with an adult. And also that Heureka appears now as a Science Centre for people of all ages.


In Heureka you can build a hill race car. Photo: LikeFinland.com

Contact information
Heureka Science Centre (www)
Kuninkaalantie 7 (parking: Kuninkaalantie 5)
01300 Vantaa
FINLAND

Tel. +358 9 8579 288


Opening hours:
Mon-Wed, Fri 10-17
Thu 10-20
Sat-Sun 10-18


***
Text: Sari Särkijärvi, Henri Elo
LikeFinland.com is a nationwide leisure time media and search service of Finnish destinations. You can like us in Facebook or follow in Twitter and Instagram.
Our main website in Finnish is www.KivaaTekemista.fi.