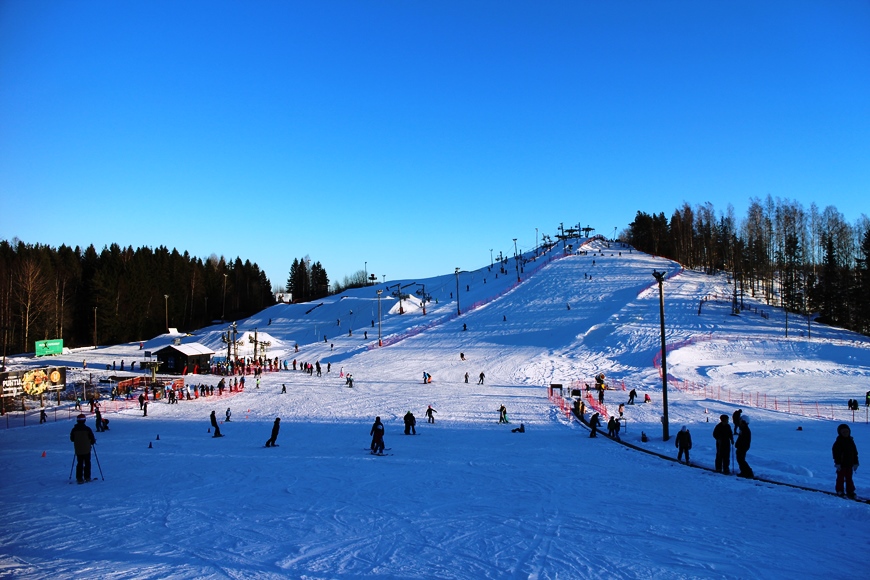 Talma Ski offers great set of snowfun!
For the kids there is Werneri Park, which has for example a pole carousel and adventure track for toddlers, and of course a very nice slope with a carpet lift. There is also a sledding hill in Werneri Park, with various gadgets to slide on – slugs, sliders, bobsleds and snowscots - the choice is yours, they are all free to use! But the most popular of Werneri Park is definitely the snow tube chute - best slides ever with the tube-tires!!


On the skiing slopes you can use skis or snowboard, and both can also be rented on the spot. Talma Ski has great slopes for both beginners and masters.
When you get hungry, there are a great restaurant and bistro! This season's novelty is Thai food meals, which have already been very popular. There are also traditional Burger Dishes, Chicken Baskets and home-cooked meals.


We tested new Thai food meals in Talma and were positively surprised! Talma has hired professional Thai cook Meena, who has a long experience in the field and has previously held her own restaurant in Porvoo
On my plate there was Green Curry Chicken & Rice (green curry-flavored chicken with rice and vegetables). A warm, spicy chicken sauce with rice was tasty and kept me awake all day (I just noticed afterwards that I had chosen the hottest, spiciest version…!)
You can also bring your own packed lunch and eat it in Werneri Park: there is a special hut for that. It's also available for birthday parties. For this purpose, Talma offers birth packages.
Our day at Talma
We were 2 children and 1 adult having snowfun in Talma. We had upgraded our equipment on beforehand.
However, a new need arose while our visit in Talma. We had a 100-cent board for 135-cent boy, and that was definitely too small. We decided to buy a new Salomon board, which was recommended by Talma staff.


The Talmashop has a good selection of alpine skiing and snowboarding equipment. They offer also a good set of discounts. Everything you can find in the online store Talmashop.com are also available on the store.
I was surprised that the Talmashop even sells serial tickets to the Talma restaurant. But of course, the slope will get you hungry and serial tickets will be cheaper choice for heavy users.
We also visited the Talma's popular ski school. Aleksi Vesimäki, who is responsible for the ski school, reminded us that those who wish to have a place in ski school on winter holiday need to hurry. Private lessons instead should be booked 2-3 days in advance. The ski schools have been popular and they provide a good start for enjoying the slopes both for children and adults.



The atmosphere in night slope was great
Text: Anne Kinos-Järvinen
Original Finnish text: Henri Elo
Photos: Henri Elo / LikeFinland.com
❄❄

Talma Ski contact info:
www.talmaski.fi/talvi/ (incl. pricelist)
January 2019 (more hours on week 8)
Mon-Fri 16-20:30
Sat 10-19
Sun 10-18
Tickets 0400 716 882 info(at)talmaski.fi
Ski School 044 574 9070, hiihdonopetus(at)talmaski.fi
Restaurant 0400 716 856, ravintola(at)talmaski.fi
Talmantie 341
04240 Sipoo
(for navigator: Norantie 1, Sipoo)
Talma @ Facebook (www)
Talma @ Instagram (www)
❄❄❄
We have chosen Talma Ski as the Destination of the Month in January 2019. Talma Ski is our Star Destination and media customer.
LikeFinland.com is a nationwide leisure time media and search service of Finnish destinations. You can like us on Facebook or follow on Twitter and Instagram.
Our main website in Finnish is KivaaTekemista.fi.