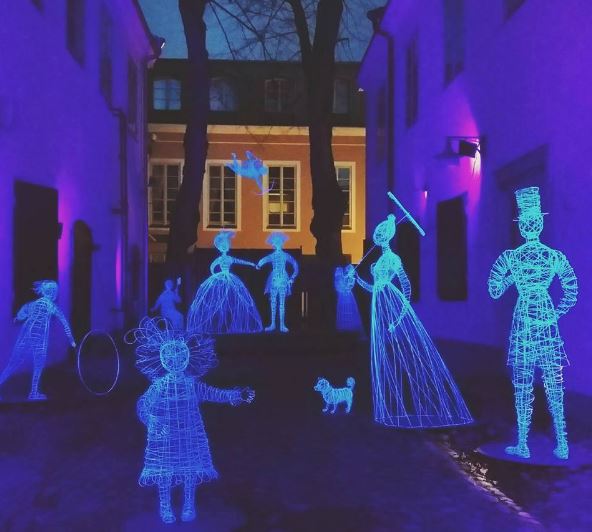 If you are heading to Helsinki on Christmas Time, we made you a list of interesting places to visit.


Suomenlinna Sea Fortress
Helsinki

Suomenlinna, The sea fortress, founded in 1748, is a Unesco World Heritage site and one of the most popular tourist attractions in Finland. Visitors are not charged an admission fee – you only need to pay for the ferry crossing. Suomenlinna is also a borough of Helsinki.

The main sights are situated along the blue route which runs across the fortress.
A guided tour is the best way to learn about the fortress and its history. There are also six interesting museums in Suomenlinna.
Read more

How to get there?
Suomenlinna is accessible only by water. A ferry service runs from the Market Square to Suomenlinna throughout the year.
The trip to Suomenlinna takes 15–20 minutes and offers magnificent views of Helsinki and the surroundings from the sea. During the cold winter months, the trip through the ice-covered waters is a unique experience.

Prices
Suomenlinna ticket 12h 5€. The ticket is valid for 12 hours only on the Suomenlinna ferry. Timetable

The photo archives of the Governing Body of Suomenlinna/Arttu Kokkonen


Kiipeily Areena Climbing Centre
Salmisaari Sports Center (K1st floor)
Energiakatu 3, Helsinki

KiipeilyAreena in Salmisaari, Helsinki is the Scandinavia's biggest and highest indoor climbing centre! Here you will find the perfect level of difficultiness. KiipeilyAreena suits also for groups and children's birthday parties incl. climbing instructor.

Opening hours
Mon-Fri 9-22
Sat 10-19
Sun 10-21

Exceptions
24.12. closed
25.12. closed
26.12. 9-22
31.12. closed
1.1. 13-21
6.1. 9-22

Ticket prices
Adult 14 € (with equipments 20€)
10 € Mon-Fri before 16 (with equipments 16€)
Child 10 € (with equipments 15€)
Bouldering 11€

***
Prison Island Helsinki
Salmisaari Sports Center
Energiakatu 3, Helsinki

Prison Island is a destination with adventure for all in ages 9-99 years old. It's a lot like the successful TV-show "Fort Boyard" where you use team-work to solve tricky challenges in cells and collect points. All while the clock is ticking…. Gather your friends, form a team and solve the challenging tasks in the prison cells together. Cooperate, collect points and have lots of fun.

Key card 60 min. 17€ / person
Key card 90 min. 24,50€ / person
Key card 120 min. 32€ / person
Opening hours
Mon-Fri 11-19
Closed 24.-25.12. and 1.1.

Prison Island Helsinki. Photo by LikeFinland.com

Megazone Laser Game
Salmisaari Sports Center
Energiakatu 3, Helsinki

Megazone laser tag is a fun, futuristic and exciting game that is suitable for all ages. Laser tag is played in a dimly lit, fog-filled, multi-level arena where players are provided with high tech vests and awesome but harmless laser guns. Players then try to score points by deactivating other players' vests and destroying their bases.

1 game 9,50€
2 games 17€
3 games 24,50€
Opening hours
Mon-Fri 11-19
Closed 24.-25.12. and 1.1.
***
Ice Park
Rautatientori, Helsinki

The Ice Park is centrally located in the heart of Helsinki, right next to the central railway station.
Enjoy the urban culture with skates on. Relax with a hot drink in the atmospheric café, listen to music or meet friends. Come as you are – with or without the kids, straight from work, with your special someone under your arm, or on your way to a night out with friends. The award winning Ice Park is the perfect meeting spot! Read more

Opening hours
24.12. – Closed
25.12. - 8.1. – Open from 10 until 21

Tickets and prices
Adults 6 €
Children (under 18 years-old) 3 €
Skate rental 6 €
The ticket is valid all day. Before skating you will buy a ticket from the ticket booth and put it on your jacket. If you need skates, you can rent them from the Ice Park. Helmets and helping sleds can be borrowed free of charge.

Image source: Jääpuisto - Ice Park, Helsinki


**
LikeFinland.com is a nationwide leisure time media and search service of Finnish destinations. Would you like us to write about your destination for tourists. Please let us know.
**
Helsinki City Museum
Aleksanterinkatu 16, Helsinki
3.–31.12. "They were here" light installation
The museum's three magnificent courtyard spaces are well worth a visit even during the chilly season, especially when you will have the opportunity to meet with historic characters drawn from Helsinki's past. The human-sized, transparent light sculptures from Alexander Reichstein's will showcase the Finnish capital's history from the Middle Ages until the early 20th century. The sculpture installation also includes a musical track that treats visitors to the sounds of times gone past. The display can be visited during the museum's opening hours. Read more
7.10.-15.1. Smell

What does the nose remember? What does the city smell like? Can a museum experience be built on a single smell? The Helsinki City Museum at Aleksanterinkatu 16 will offer a new sensory experience starting from Friday, 7 October 2016 when Smell opens on the fourth floor of the museum. Read more
Time Machine

Most of us have probably wished we could sneak a peek into the past to see how people used to live. Now, with the opening of the brand new Helsinki City Museum, you can do exactly that and step onboard our Time Machine that will whisk you away to visit a very lively and authentic Helsinki, just as the city was a century ago. Read more
Helsinki Bites

History comes near in the Helsinki Bites exhibition, allowing the visitor to experience the past of the city with all of their senses in many different points. "I remember that, that's just what we used to have!" many visitors may exclaim in many different spots.

In a 1950's home built for the exhibition, one can try out how it feels like to laze around in a steel string bed and browse through an old Anttila catalogue. The favourite shows of the time play on the radio. The big music stars of the era, such as Olavi Virta and Tapio Rautavaara, can naturally also be heard. Read more

Opening hours
mon – fri 11–19
sat –sun 11–17

Closed
24.-26.12. and 31.12.

Helsinki City Museum exhibitions can be enjoyed free of charge.

Image source: Helsinki City Museum

LÖYLY – AN URBAN OASIS
Hernesaarenranta 4, Helsinki
Löyly, an urban oasis, offers exceptional architecture in a unique location. The sauna is open to the public and has separate locker rooms and showers for men and women – however the sauna rooms and other facilities are open to everyone. Please remember that appropriate swimwear must be worn in the shared sauna room. Read more

Prices
A two-hour booking for the sauna costs 19 euros and includes a towel, seat cover as well as soap and shampoo. The booking needs to be paid immediately.
Opening hours
Mon-Thu 11-10
Fri 11-02
Sat 10-02
Sun 10-9

Exceptions
Sat 24.12. closed
Sun 25.12. closed
Mon 26.12. 13-22
Sun 1.1.2017 12-18

Image source: Löyly. Photo by Pekka Keränen

Korkeasaari Zoo
Mustikkamaanpolku 12, Helsinki

Helsinki Zoo is home to 150 animal species and almost 1000 plant species that show the diversity of nature. Helsinki Zoo is one of the few zoos located on an island. It is the perfect place to visit due to its natural environment, animals and history. The zoo was established already in 1889 and this makes it one of the oldest zoos in the world. Helsinki Zoo also participates in the work to protect the habitats in the original homes of the various species. Helsinki Zoo´s mission is to work towards preserving biodiversity. Read more

How to get there?
Bus number 16 runs from the Central Railway Station to Helsinki Zoo every day all year round, except on Christmas Eve. The platform at the Railway Station is no. 17. The estimated travel time is 21-23 minutes.

Opening Hours
Every day at 10-16. Closed on Christmas Eve.
Please note that the ticket office and entrance closes one hour before the Zoo closes.

Ticket prices
Adult 12€
Child 4-17 years 6€
Child under 4 years Free of charge
***

27.12.-7.1 Helsinki Christmas World 2016
Kolmen Sepän aukio - Ylioppilasaukio

You will find the real Christmas spirit and all the Finnish gifts and crafts you could wish for. Plenty of hot drinks and food to keep warm and get a true taste and scent of Christmas. You can meet Santa Claus and try the entertaining horse carousel, see nativity, hear music and decorate Christmas cookies. Read more

***
Market Halls in Helsinki

Helsinki's adjacent indoor market halls are homes of great food. Hakaniemi Market Hall, Hietalahti Market Hall and the Old Market Hall are full of friendly family enterprises selling unique local delicacies. Many loyal customers come in to town regularly from the countryside and even from overseas to stock up on items you won't find anywhere else. Read more

***
Top 5 Cafés in Helsinki
Café Esplanad
Pohjois-Esplanadi 37, Helsinki

Café Esplanad is well known for its central European atmosphere and style and especially for its huge cinnamon rolls (a Finnish sweet pastry called Korvapuusti) that are baked in the cafés own bakery. On the outdoor terrace one can also enjoy the sun. Restaurant Bistro in the back of the café offers inexpensive lunch.
Café Ekberg
Bulevardi 9, Helsinki

With a history dating back to the 1850s, Ekberg is considered a beloved veteran of the Finnish café and confectionary culture. The classic café Ekberg still serves the Napoleon cake and the Champagne Cork, favourite to many of its customers.

Café – Restaurant Ursula
Ehrenströmintie 3, Helsinki

Ursula was founded on the seaside the same year 1952 as the first Olympic Games took place in Helsinki. The profit of Ursula has been used since the beginning for the benefit of poor people.
Café Regatta
Merikannontie 8, Helsinki

Outdoor café by the sea in Töölö with funky vintage interior and decoration.
Fazer Café
Kluuvikatu 3, Helsinki

Karl Fazers French-Russian café&cake shop was opened in Kluuvikatu 17.9.1891. As years have passed by the building, designed by Juslen, has been renovated and the interior of the café has been changed many times. The design of the cupola salon has been designed by interior designor Kaisa Blomstedt, who's well acquainted especially with interiors in functionalistic style. A part of the café&cake shops goodies are still made in Kluuvikatu, and it is possible to see the confectioners at work behind glass.
Read more about Cafés in Helsinki
***

Must see destinations outside Helsinki


Flamingo Spa for adults & Aqua Park Flamingo
Tasetie 8, 01510 Vantaa

In the Spa, you can enjoy the relaxing warm water pool, the therapeutic mineral water pool, the six different saunas, the relaxation divans, and the treats at our pool side restaurant, Spa Café, which is licensed to serve alcohol. In addition to all this, the adult spa has over 20 luxurious treatment rooms where you can savor our Spa-treatments or luxuriate in an oriental steam sauna together with a group of friends or your beloved. Read more
Aqua Park Flamingo offers thrilling moments to all lovers of action- packed water games. Inside the water park, you will find different kinds of pools and slides, as well as our pool side restaurant, Spa Café, which is licensed to serve alcohol. In connection with the showers, there is also a Finnish sauna. Read more



Image source: Flamingo Spa


Heureka - The Finnish Science Centre
Kuninkaalantie 7, Vantaa

The Finnish Science Centre Heureka intro- duces the public to science and technology in an engaging and interactive way. Visitors can experience the joy of discovery through spectacular exhibitions, planetarium films and events. Read more

Fazer Experience Visitor Centre
Fazerintie 6, Vantaa

The journey of Karl Fazer's French-Russian café started on Helsinki's Kluuvikatu, and on 17 September, it will have been going on for 125 taste bud-inspiring years. To commemorate our anniversary, we opened a new, unique visitor centre in October that have a memorable exhibition, a Fazer Café and a store. Read more
Talma Ski
Talmantie 341, Sipoo

Talma Ski is a high-class ski resort and snow playground for the whole family in Sipoo, near Helsinki. Alpine skiing, snowboarding, snow park, ski school and also Werneri Park for small children. Read more
Haltia - The Finnish Nature Centre
Nuuksiontie 84, Espoo

The Finnish Nature Centre Haltia presents all of Finland's nature under one roof. Haltia is also a modern and ecologically designed Conference and Event Center. The main exhibition will fascinate the visitor with its enthralling visualization of the Finnish nature. Read more
***

Useful links
Helsinki Region Journey Planner
What to do in Helsinki in 6 hours?


Finnish cuisine in Helsinki

Hel Yeah! Food Helsinki brochure (including map)


Family attractions in Helsinki
Discover design city Helsinki

***
Helsinki Tourist Information
Pohjoisesplanadi 19, Helsinki

The Helsinki Tourist Information offers free information about the city and its sights, events and services. Pick up brochures and maps, and get the tips and advice for making the most of your holiday.

Telephone +358 (0)9 3101 3300
e-mail:tourist.info(at)hel.fi
Website

***
Sources used in this article: Visit Helsinki, Suomenlinna, Flamingo Spa, Löyly, Helsinki City Museum, Ice Park, Haltia, Fazer, Heureka, Korkeasaari Zoo, Christmas World and Prison Island -websites.
***
LikeFinland.com is a nationwide leisure time media and search service of Finnish destinations. You can like us in Facebook or follow in Twitter and Instagram.
Our main website in Finnish is www.KivaaTekemista.fi.