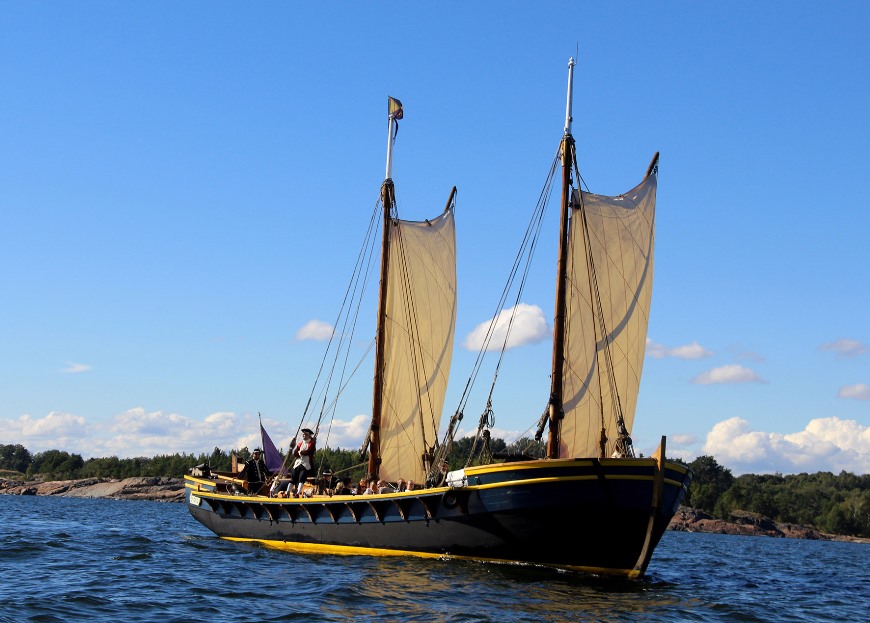 LikeFinland team participated in a historical sailing tour on the Cannon sloop Diana sailing ship in Suomenlinna's coastal waters around Helsinki last summer.
The sailing tour offers a unique sea voyage in a special way with the crew of the 18th century: Shipbuilder of Viapori, Admiral Fredrik Henrik af Chapman and Captain Carl Fredrik Arnkhil with their crew.
The passangers participating the sailing tour this summer 2017 will be board from Suomenlinna.
"Suomenlinna, The sea fortress, founded in 1748, is a Unesco World Heritage site and one of the most popular tourist attractions in Finland. Suomenlinna is accessible only by water. A ferry service runs from the Market Square to Suomenlinna throughout the year. The trip to Suomenlinna takes 15–20 minutes and offers magnificent views of Helsinki and the surroundings from the sea."

Photo: LikeFinland.com
A 20-meter long and 4.5-meter-wide wooden Diana was built in Suomenlinna shipyard by a shipbuilding master Mikael Holmström in 2010-2014. Diana has been constructed with traditional building materials and methods by using drawings of the original ship architect Fredrik Henrik af Chapman and old documents from the Swedish fleet's drawing office.
A surprising detail is that Diana is the first electrified-engine passenger ship in the Finnish sea area!
Cannon sloops were specially designed for maritime cruises in coastal waters. Low-speed cannon sloops, with two masts and 15 pairs of oars, could also be rowed.

Photo: LikeFinland.com
The sailing started from the nearby Market Square in Helsinki. We all were excited because we had never been in such a sailing trip before.
The ship was sailed partly with the electric engine and partly with the sails. We tried some rowing too (!) - with help and tips of the crew naturally.
There was alltogether a dozen participants: adults who were interested in old sailing ships and families with children, keen on history, drama and action. We got them all!

Photo: LikeFinland.com
And there was really drama on this voyage! Admiral Chapman and Captain Arnkhil had a lively discussion about preparing the crew for the 18th century marine battle.
A backup crew was needed as well: Everyone had a chance to take part in rowing or in raising and lowering the sails. The rowing was successful when two people held one of the heavy oars that wasn't allowed to fall into the sea. Eventually we landed on Vallisaari shore by ship's electric motor in a controlled manner by the back-up crew of two people.

Photo: LikeFinland.com
The sailing tour was a great and different, adventurous experience. The best part was, when both children and adults were allowed to participate in the Diana crew. Also the performance was entertaining and exciting with a fair dose of humour.
Mr Chapman and Mr Arnkhil performed well in their roles.

Photo: LikeFinland.com
Please note
Diana is an open boat, so dressing according to weather conditions is important. Due to the wind, it may be chilly at sea even on a warm day. It is good to have a warm and relaxed casual outfit, as well as flat shoes, with you. In case of rain, it is good to bring a raincoat. It is also worth taking a bottle of water with you. Children can participate only with an adult.


Public sailing 2017
Between 28.6. - 5.8. and 12.8. / 19.8. / 26.8.
Wednesdays, Thursdays and Saturdays at 15.30
The play is mainly in Finnish but the crew is happy to help also foreign guests in English.

Children's maritime adventure 2017 (in Finnish)
Between 28.6. - 5.8. and 12.8. / 19.8. / 26.8.
Wednesdays, Thursdays and Saturdays at 12.30

Prices

Adults 25 €
Children (3-15 years) 12 €
Prices include VAT 10%.


Duration and point of departure

The duration of the sailing or rowing tour is approximately 2 hours. Sailings depart from Suomenlinna's Tykistölahti Pier. You can reach Suomenlinna on JT-Line's water bus or HSL's ferry from the Market Square (the boat trip is not included in the ticket price).

Public sailings' ticket sales, bookings and enquiries

Tel. +358 (0)9 6841850, guidebooking@suomenlinnatours.com
OTHER THINGS TO DO AT SUOMENLINNA
Café Piper (www)
After the sea voyage, Café Piper, the oldest cafe in Suomenlinna, is worth a visit. The café has served its guests at Suomenlinna since 1928. The beautiful wooden summerhouse is inspired by Roman temples.
Guided tours (www)
The Ehrensvärd Society organizes guided walking tours from 1st of June until the end of August in Finnish, Swedish, English and Russian, and in the wintertime in English and Russian. Guided tours are also available by reservation in 16 different languages.
Museums
Ehrensvärd Museum (www)
Suomenlinna Museum (www)
**
Ehrensvärd Society, who organizes the sailing tours and guided tours at Suomenlinna, is a media customer of LikeFinland.com media.

Text: Sari Särkijärvi, Henri Elo
***
LikeFinland.com is a nationwide leisure time media and search service of Finnish destinations. You can like us in Facebook or follow in Twitter and Instagram.
Our main website in Finnish is www.KivaaTekemista.fi.