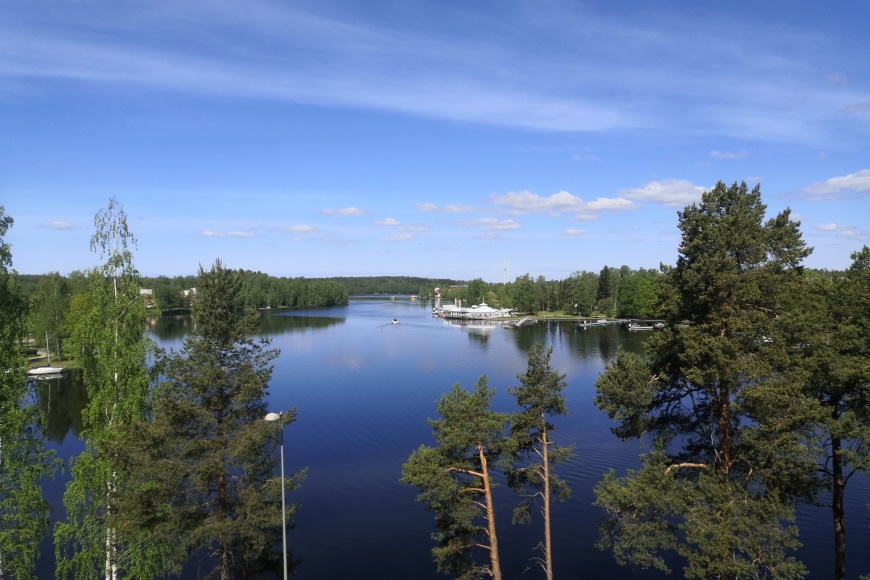 Heinola view from the railway bridge towards River Kymi and Restaurant RantaCasino. Photo: LikeFinland.com
Could you imagine a Finnish town with hills and bridges, historical cafés, cosy accommodation, and a bird garden with no fee.
Not forget a long beach right next to the city center - and other swimming and spa possibilities.
Yes, Heinola is that all! The former center of Kymenkartano county, but nowadays a suitable-sized town for your summer visit! Of course there are museums and art for you: Art Museum (more info in Finnish here) and the unique Aschan's House from 1700s (www) are open also this summer! Then there is a special Dork Park 'Dorkin puisto' near the railway (freight) station of Heinola.
Just a short distance away from the Dork Park, there are two cafeterias: Café Tower and Café Harjupaviljonki. The later one was founded for Russian spa guests 120 years ago for their refreshment. The spa itself was located near the beach, and that's why the name of the beach is still Spa Beach 'Kylpylän ranta', just close to the center. :)
Café Harjupaviljonki 'Hill Pavilion' is specialized in waffles, both salty and sweet. Photos: LikeFinland.com
When you continue walking accross the high railway bridge (see the view in the first picture!) and the River Kymi - well, there is also a walking side - you'll arrive on the Siltasaari island. However, you should come back maybe a hundred meters after crossing the bridge.
And there it is, Café Kailas, with its own little world and atmosphere. The name Kailas comes from a former Finnish poet Uuno Kailas (1901-1933). On Siltasaari you may meet a happy hostess of Café Kailas, Päivi Niemiaho. :)
Café Kailas building has been a sauna for its original purpose some 100 years ago. The River Kymi flows very close to you. Photo: LikeFinland.com
Walking back to the town along a nice footbridge, and you may take a lunch at Restaurant RantaCasino. Or would you like some live music, f.ex. in July 11th there was Celtic Music night at RantaCasino ('ranta' means coast). The restaurant is hosted by a Finnish-Irish couple Marika and Stephen Cronin.
There are more nice restaurants in town, and places for spend a night, like a cosy Villa Hulda for 1-2 families, ca. 1 km from the center.
Pictures from RantaCasino, Marika left down, and right down there is Villa Hulda's Elina in Heinola center. Photos: LikeFinland.com
What is amazing and imoprtant for the whole town, is that there exist many shops and stores alive in Heinola! Well, the amount of inhabitants, nearly 20.000, and thousands of "summer cottagers" (with their villas) as well as tourists make it possible that you have quite a numer vital services in Heinola - such as clothes, shoe, decor and toy shops!
Here you can see Karoliina from Visit Heinola (left up), Hannamari from Roosamari clothes shop (right) and Jenni from Kenkä-Jenni (Shoe-Jenni) serving you. Photos: LikeFinland.com
I visited Heinola in early summer 2020, and really enjoyd the feeling after the 'corona spring'. People are nice, open and friendly, there is enough air to breathe in this historical town.
--
Text: Henri Elo
--


Contact Information:
Visit Heinola (www)
Kauppakatu 4, Heinola (Tourist info)
p. +358 (0)3 849 3615
matkailu(a)heinola.fi
Café Kailas (www)
Siltasaari 1, 18100 Heinola
p. +358 (0)44 74 77 001
info(a)kailas.fi
Café Heinolan Harjupaviljonki (www)
Kauppakatu 30, 18100 Heinola
p. +358 (0)40 5619 522
harjupaviljonki1(a)gmail.com
Restaurant RantaCasino (www)
Maaherrankatu 2, 18100 Heinola
p. +358 (0)40 192 1027 / 03 718 8666
info(a)rantacasino.fi
Villa Hulda (www)
Puistokatu 20, 18100 Heinola
p. +358 (0)40 726 5582
info(a)heinolatravel.fi
- More about Heinola destinations and services (www), and events (www)
- Our article of Heinola in 2019 (www)
--
Heinola municipality, Harjupaviljonki, Café Kailas, RantaCasino and Villa Hulda are the Star Destinations and media customers of LikeFinland.com.
LikeFinland.com is a nationwide leisure time media and search service of Finnish destinations. You can like us on Facebook or follow on Twitter and Instagram. Our main website in Finnish is KivaaTekemista.fi.