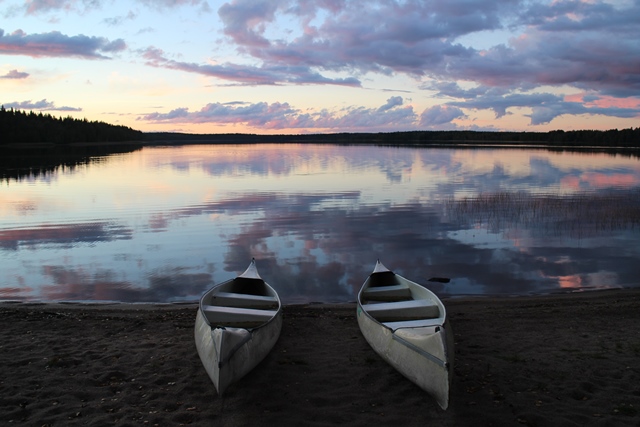 We went to spend a nice weekend in a cosy Holiday Centre Revontuli in Hankasalmi, Central Finland. We had visited Revontuli once before. We wanted to come for a visit again because of its tranquility, friendly service, cozy cabins, good food and many activities.


What is Revontuli?
Over the years Revontuli has grown and developed into a good quality holiday destination with its golf fields and restaurants, not to forget the surrounding nature and the beautiful lake scenery.

Revontuli (the northern lights in english) was named after a northern lights radar station which was built close by.
Nice cottage accommodation
Revontuli has traditional hotel rooms and cottages of different sizes and levels. We had a cottage with sauna and two separate bedrooms.
Activities

Revontuli is an ideal holiday destination especially for golfers and for disc golf players.

There are two nice jogging routes, Bear Loop 7 km and Revontuli Run 11 km and also a 3-kilometer-long nature trail with bird watching towers.

In Revontuli you can rent canoes and rowing boats, play tennis, volleyball, petanque and a traditional finnish game called mölkky.
Southern Konnevesi National Park and the slopes of Häkärinteet nearby on winter time are worth visiting.

Frisbeegolf, minigolf and footgolf
Because of the warm and sunny weather we decided to play frisbee-, mini- and footgolf with children when dad was enjoying his day by playing golf.

In Revontuli there are two frisbeegolf tracks. The easier one, that goes around the Revontuli area, is for the families and a more challenging track on the other side of the highway 9 is for the active players.


Nature trip in the Southern Konnevesi National Park

After an active morning and a delicious lunch in Revontuli, we headed to the Southern Konnevesi National Park. It takes less than one hour to go there by car. Etelä-Konnevesi National Park was founded in 2014 and it is located in the municipalities of Konnevesi and Rautalampi, on the border of the former provinces of Central Finland and Northern Savo.


The Kalajan kierros Trail (4.6 km) was recommended to us. The trail runs from the Kalaja parking area, goes round the pond Vuori-Kalaja to the top of Kalajanvuori hill, comes down to the lean-to-shelter of Vuori-Kalaja and returns to the parking area. The trail is marked with yellow paint.


Pond Vuori-Kalaja can also be accessed by wheelchair with assistance. The trail is challenging for children due to steep terrain.


We were lucky on behalf of the weather. The nature was so beautiful in the evening. This time the whole family was inspired to take photos along the trail. The sun was shining and the water surface was mirror calm.

More information about the Southern Konnevesi National Park


Relaxing sauna and bowling

In Revontuli there is a whole sauna world with smoke sauna, tent sauna etc. We enjoyed the steams of traditional sauna and went for a swim in Iso-Virmasjärvi lake.


After the sauna we went bowling and had a dinner in Revontuli Bowling Diner. On weeknight there were plenty of space for bowling. Although the children had not yet much experience in bowling , the competition was extremely hard.
Bowling and eating tasty burgers in nice American style restaurant was a good way to end an active day in Revontuli. Children's meals were served in stylish cardboard cars, which was a positive surprise, at least for our 5-year old boy.


Much still remained to experience.
Contact information
Holiday Centre Revontuli (www)
Revontulentie 1, 41500 Hankasalmi
Finland
+358 14 844 8200
LikeFinland.com is a nationwide leisure time media and search service of Finnish destinations. You can like us in Facebook or follow in Twitter and Instagram.
Our main website in Finnish is www.KivaaTekemista.fi.