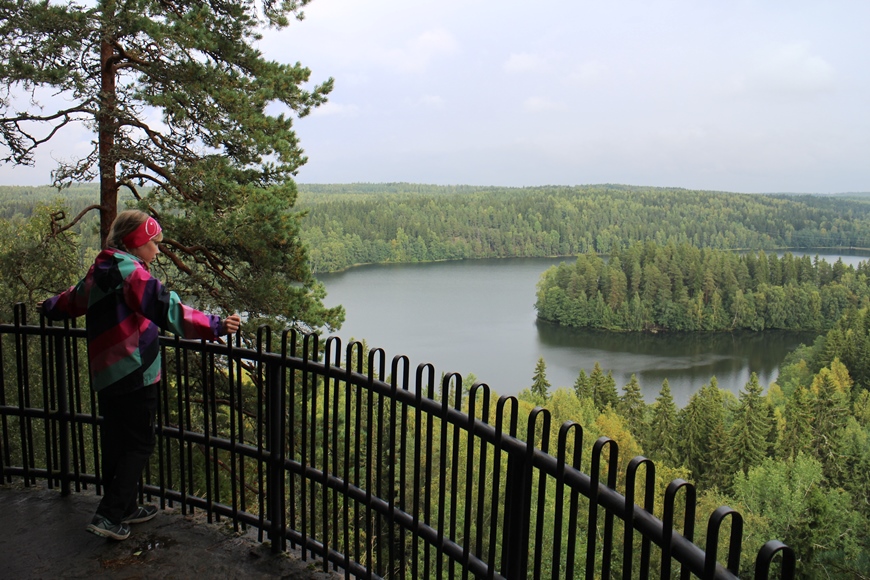 LikeFinland team visited Aulanko in Hämeenlinna few weeks ago in September. Hämeenlinna is located just an hour's drive from the Helsinki Metropolitan Area, which makes it a nice mini holiday destination.
As a nature-loving family, we wanted to find out what kind of outdoor activities Aulanko offers.
WHAT IS AULANKO?
Surrounded by two waters, Vanajavesi in the west and Aulangonjärvi in the east, Aulanko is not only a beautiful but historically significant area. We were surprised by its versatility.
Aulanko was formerly known as Karlberg and was originally built for a Polish Countess, to whom Aulanko's founder, Colonel Hugo Standertskjöld (1844-1931) was in love. However, the countess never arrived in Finland.
Standertskjöld wanted the Karlberg to be open for everyone. His numerous creations that still remain consist of the Aulanko lookout tower, Ruusulaakso Pavilion, Temple of luck, Bear cave as well as artificial islands and artificial lakes. This all gives you an authentic historical and nature experience.
Many of the latest destinations in the area are named after Aulanko's most famous host and builder, including two golf courses in Aulanko Golf, Hugo and Eversti, and the adventure park HugoPark, opened last year.

Ruusulaakso Pavilion. Photo: LikeFinland.com


IN PEACE AND PRIVACY
Aulangon Rauha contains several accommodation units for rent by Aulangonjärvi lake. The accommodation company Evon Luonto - Peace & Privacy offers villas also near the Evo hiking area east of Hämeenlinna, and in Loppi, south of Hämeenlinna. (By the way, 'rauha' in Finnish means peace, and 'luonto' means nature.)
We stayed in a fully renovated Aulanko Grand Villa, opened in spring 2017. It is suitable both for families and for larger business and other groups. The Villa of 350 m2 includes several bed rooms, sauna facilities, and a large lounge with fully equipped kitchen.

Aulanko Grand Villa. Photo: LikeFinland.com


The Aulanko Grand Villa is a nice place to spend holidays, for example, with friends or to organize family reunions.
The villa's speciality is its own game room with billiards, air hockey and ping-pong tables, darts and table football. Children were very excited about it, and the best thing was that it made the kids forget about the smartphones!

Photo: LikeFinland.com


We would have liked to stay longer, as Aulanko offers plenty of nice things to do and places to see, for all ages. One weekend is not enough!
If you really want to be in peace and enjoy the nature of Aulanko, with no strangers, the villas of Aulangon Rauha is the right place! We were surprised that the villas are rented for only one family or group at a time.
More information:
Evon Luonto - Peace & Privacy (www)

Tel. + 358 207 300 888
Email: info[a]evonluonto.fi
BEAUTIFUL NATURE OF AULANKO
There are eight National Urban Parks in Finland, of which Hämeenlinna is the eldest, founded in 2001. The land area extends from the centre via Häme Castle to Aulanko.
We did not have a precise plan but after having explored the map we decided to head our nose to the scenic Lookout tower of Aulangonvuori Hill.
The trails were well marked and there were maps along the trails.

Photo: LikeFinland.com

Photo: LikeFinland.com


We felt once again: Are we really in Finland?
From the tower we continued to the Ruusulaakso pond and the lovely Ruusulaakso pavilion. What a great spot for a picnic!



Photo: LikeFinland.com

FUN THINGS TO DO IN AULANKO
HugoPark
HugoPark is an adventure park opened in summer 2016 near the Aulanko spa hotel. There are 7 tracks in the adventure park, and most of the courses are suitable also for children. The recommended hight limit is 120-140 cm depending on the course.
HugoPark has a continuously-assured ZAZA2 system, where the adventurer's harnesses are hooked in the safety wire all the way.
Eetu, 6yrs, was inspired by the course 1. Although the course runs low, there are points on the course, where the smallest children may not survive without a help of an adult. Aada, 10yrs, experienced the courses 2 and 3.

Photo: LikeFinland.com


None of the Hugo courses was physically extreme, but the courses 5-6 tracks certainly require more courage – especially in the jumps.
Other activities at Aulanko Park: mini golf (equipment rental from the hotel), disc golf and beach volley.
At the end of the climbing adventure we enjoyed a lunch buffet at Aulanko Golf's restaurant Eversti. The lunch was tasty and of high quality. Kids liked it too.
You can find restaurant services also at Hotel Aulanko.

Aulanko Golf & Restaurant Eversti. Photo: LikeFinland.com


Other destinations
Spa Hotel Cumulus Resort Aulanko (Hotel Aulanko)
Aulanko Golf: 18-hole Kenraali & 9-hole Hugo + golf lessons
Aulanko Riding School
Aulanko Outdoors program services
**
Evon Luonto is a Star Destination and a media customer of LikeFinland.com media.

Text: Sari Särkijärvi, Henri Elo
***
LikeFinland.com is a nationwide leisure time media and search service of Finnish destinations. You can like us in Facebook or follow in Twitter and Instagram.
Our main website in Finnish is www.KivaaTekemista.fi.