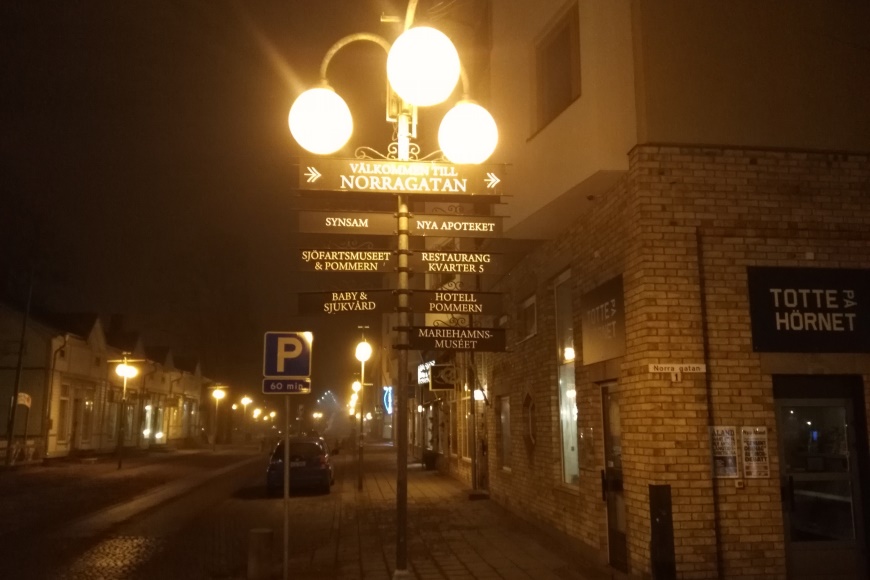 The feeling in the evening in Mariehamn - there must be some mysterious or romantic! Photo: LikeFinland.com
We, as a LikeFinland team, were thinking, which could be a nice, different, relaxing and not so expensive winter holiday destination for two school age kids and an adult.
The mainland of Finland is quite familiar for us – of course not all destinations – but then… as we all know, the kids are dreaming ship cruises - and many adults too! It is a fixed part of Finnish "tourism culture", built-in to the Finn's mind, could I say. :)
Leaving from Turku by a cruise ferry on Monday morning of the winter holiday, "sportlov", as they say in Åland. Photo: LikeFinland.com

From Helsinki to Tallinn, to Stockholm. From Turku to Stockholm and so on. But then there is also Mariehamn, the capital of our lovely Åland, partly independent province of Finland!
Yes, the kids will get their ferry cruise – and we all get our Mariehamn.
Our absolute favourite in Mariehamn was Mariabad Spa and Waterpark – Badhuset Mariebad. We visited there two times!
A crazy water slide as well as a pool from inside to outside were really relaxing. You just watch the sea and the ice, the sea nature, which is living its calm and cold season. And you enjoy when the warm water lubricates you, getting your soul to rest.
Mariebad, we love you! A water slide with speed metrics and a pool with a sea view! Photo: LikeFinland.com
We liked very much the short distances of Mariehamn. One can just walk to anywhere. Even the Western Harbour, where the big ferries arrives and leave, is less than 1 km or 15 minutes walk from the city centre.
Of course, if you want to go to the biggest shopping mall, Maxinge, in this amazing island, you may take a taxi or car, or a bike. Maxinge is located approx. 3 km north from the centre.
But there are services like shops and restaurants, cafeterias, in the centre also. Many are open in winter time too. Two nice shopping malls Sittkoff Gallerian and Zeipels are there for you!
Our renovated hotel was nice, comprehensive and reasonably-priced. Park Alandia Hotel has a restaurant, bar with outdoor terrace and live music Wed-Sat round the year as well as conference facilities, pool and sauna. Photo: LikeFinland.com
We enjoyed our time in a fully renovated traditional hotel, Park Alandia Hotel. It is located in the middle of the centre, Norra Esplanadgatan 3. We got good sleep in our comfortable beds in the nice, renovated hotel room. It was even hard to distinguish if the hotel was completely new or renovated.
The restaurant was good with classic meals as well as vegetarian meals. The breakfast of the Park Restaurant gave a good start for the days in our 2-nights mini holiday!
We enjoyed also other restaurants like Pizza Diablo and Sittkoff Gården. All these places to eat were reasonably-priced.
Another favourite for kids, besides Mariebad, was Åland Maritime Museum – Ålands Sjöfartsmuseum. It is located a little bit north from the Western Harbour.
They have been also thinking kids in the museum, because there exist interesting "Give it go" activities (these are for any ages people!) around museum:
"At Åland Maritime Museum we want you to learn the ropes. Climb the mast, tie knots and try to steer a ship in the simulator. The hands-on activities are all around the whole museum and are great fun not just for kids." (sjofartsmuseuum.ax)
Åland Maritime Museum offers to see and explore for people of all ages. Photo: LikeFinland.com
My kids were keen to hunt all the treasures from the mysterious holes:
"Follow Ruby the ship's rat and look for the nifty rat holes hidden in various places around the museum, discovering the exhibitions as you go along. Return your answers to the front desk and receive your prize from the treasure chest."
Maybe the trickiest task was to choose a nice prize after the successful hunt. :)
Finally we spent time downstairs in a place called "Ruby and the Sea":
"Ruby and the Sea, the imaginative children's room at the Maritime Museum presents a fascinating world both under and above the surface of the sea. The sea has moved in and the kids get to discover all that might hide on the sea bed – wrecks, fish, corals, sea creatures and even secret mermaid grottos."
There was one disadvantage in our museum visit. We had just roughly an hour time to explore. The museum is open daily 11-16 (winter 2019).
You should reserve more time for this museum, which was chosen as the Museum of the Year in Finland 2016! A re-opening of the Museum Ship Pommern, next to the Maritime Museum, will be held in May 1st, 2019.
❄❄
This is not the end of Mariehamn experience!
We were really positively surprised that there were a toy store called Dillen with a wide selection of toys both for boys and girls. At the same time there have been closed many toy stores in the Finnish mainland.
Pearls of Dillen. Photo: LikeFinland.com
Maybe the family company culture is so strong in Åland that they can retain their shops and keep them open around the year with some mysterious "archipelago energy". Good for tourists! :)
Aada, 11 years old, was also interested in nice shops of Sittkoff Galleria. Most of the shopping possibilities and restaurants in the centre are located along the walking street, Torggatan, or nearby. Photo: LikeFinland.com
Friendly Felicia and Didrik at the Visit Åland tourist info told us that there is even a skiing resort in Åland! Photo: LikeFinland.com

Good to know!
Mariehamn is worth a visit all year round. In summer time you can enjoy nice hiking, biking or motorcycling trips in different parts of the island.
And don't forget a lovely Eckerö area in the western side of Åland, with Eckerö's beautiful beaches like Degersand, historical Post and Custom's House by the seaside, and a theme park for the whole family, Smart Park, opened in 2015.
In the eastern side of the island, Sund area, there are castles and fortresses like Kastelholm Castle and Bomarsund Fortress.
Easter comes!
You get more information of the Easter weekend in Åland here: Visit Åland - Easter
❄❄❄
CONTACT INFO OF STAR DESTINATIONS
Visit Åland, Åland's tourist info and webpages (VisitAland.com in English here)
Visit Åland's FB and Instagram
Storagatan 8 (open in winter season Mon-Fri 9-17)
22100 Maarianhamina, ÅLAND - FINLAND
Phone +358 (0) 18 24000
info(a)visitaland.com
❄❄
Park Alandia Hotel (ParkAlandia.com in English here)
Park Alandia's FB
Norra Esplanadgatan 3
22100 Maarianhamina, ÅLAND - FINLAND
Phone +358 (0) 18 14130
info(a)parkalandia.com
The sun came to greet us last day. We enjoyed our mini holiday in Mariehamn, Åland. Thanks! Photo: LikeFinland.com
Text and photos: Henri Elo / LikeFinland.com
❄❄❄
We have chosen Mariehamn and Åland in winter time as the Destination of the Month in March 2019. Visit Åland and Park Alandia Hotel are our Star Destinations and media customers.
LikeFinland.com is a nationwide leisure time media and search service of Finnish destinations. You can like us on Facebook or follow on Twitter and Instagram.
Our main website in Finnish is KivaaTekemista.fi.