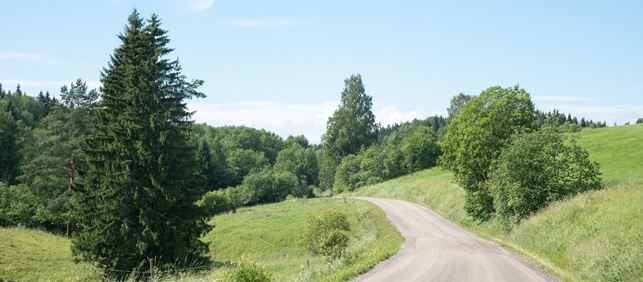 Lush forests and rolling hills are typical for the northern parts of the Sipoonkorpi National Park. Photo: Suvi Suovaara
--
Many international visitors' experience of Finland is limited to just the capital, Helsinki and maybe a sightseeing tour in the surrounding area.
Or then after a quick visit in the south, it is off to Lapland. But right next to the city of Helsinki, is the Municipality of Sipoo with its wonderful nature, excellent restaurants, and accommodation options like no other. And it is less than an hour from both the Helsinki-Vantaa International Airport and the capital city centre!
--
Settlement in a castle since the early 14th century
In the outskirts of the southern of Sipoo's two main residential and commercial centres, Söderkulla, the ruins of the medieval hill-top castle Sibbesborg were first unveiled in 1909. During more recent archeological studies, it has been declared that this castle was originally situated on an island off the cost of modern day Sipoo, but due to rising land, the area that once was an island has grown connected to the mainland by the 18th century.
Even earlier cultures have lived in the area of modern day Sipoo, since the Sipoo river (Sipoonjoki) has been an important route for trade for centuries before. As in many areas around the southern coasts of the Finnish Gulf, bronze age findings state that Sipoo has indeed been inhabited for a long time.
Some iron age findings have also been discovered implying, that there have been humans dwelling in the area for a very long time.
The Sipoo river is a slowly flowing vein that goes through the entire municipality. In times past it was an important route for both travel and transportation. The Sipoo river of today is a wonderful place for peace and recreation. Photo: Suvi Suovaara
A National Park, the river, lakes, and an archipelago all in one area
The nature of Sipoo is unique by all standards. Not only is the majority of the Sipoonkorpi National Park situated within the municipality, but dense and lush forests surround rolling hills on both sides of the Sipoo river, continuing through the river delta into the Sipoo Gulf continue all the way to the archipelago.
What is striking, is that everything is within a day's travel's reach. Obviously, if you prefer to enjoy more than just a scratch of Sipoo, it is definitely worth reserving a few days or at least spend one night in Sipoo.
--
Book your accommodation in Sipoo by zooming the Booking.com map here - or check the link here with accommodations in Sipoo and nearby - KivaaTekemista.fi / LikeFinland.com is an Affiliate Partner of Booking.com.
--
Whereas in many places the archipelago slowly declines, Sipoo's archipelago is still vibrant and has many year-round inhabitants. During summer months the service network is almost as extensive as it is inlands, there is even a shop that comes to the islands: the oldest shop boat of Finland, m/s Christina, is the last one still up and running in any of the Nordic countries!
Basic groceries are of course available as are produce and fish from merchants in and around the archipelago. Pre-orders are available even for gasoline, propane, and other necessities. Thanks to this, you can actually stay the entire summer on an island, without having to leave for shopping! Photo: Suvi Suovaara
More unique than international chain hotels
Sipoo is even by Finnish standards a middle-sized municipality and since the capital area with its international hotel chains is right next door, Sipoo has found other means of accommodation for guests and travellers to enjoy. That said, there is definitely no lack in comfort or even luxury and everything from exclusive private seaside villas with private chefs to more rustic and homelike accommodation options are available.
Technically there is only one hotel – VIlla Sibbe – which is a beautiful boutique style hotel with six different rooms. The capacity varies from 2 to 3 persons per room. Sipoo also has many wonderful Bed & Breakfast facilities and through services such as Airbnb, you can also opt for renting an entire apartment or why not try spending a weekend in one of the many cottages you can rent.
Nobel prize winner A. I. Virtanen's estate's former main building now functions as a picturesque boutique hotel Villa Sibbe with a fully licensed restaurant and riverside café. Photo: Kristian Meurman
If you really want to dig deep into the heart of Sipoo, you should definitely try spending a night at a seaside cabin on an island. On the island of Norrkullalandet, Seasong has three fully equipped small villas, each with sea view terraces, personal saunas and kitchens. All of these, that are named after historic steam ships that used to drive through the archipelago in Sipoo, sleep up to 8 guests each.
Of course there are more accommodation options in southern Sipoo, other than hotels or seaside cabins , such as Juhlamenot Cottages and organic-based Guesthouse Box Bed & Breakfast.
Easy to arrive, simple to navigate
You can reach Sipoo easily by car, but there is also a rather extensive public transport network in the greater Helsinki area, that serves Sipoo too. Even the most remote areas are reachable by local busses, but it is always a good idea to check the schedules and plan the routes in advance. After all, the rural communities do not have neither transportation nor commuters to use these around the clock.
Hop-On Hop-Off bus to the Sipoonkorpi National Park
Between March and November there is a Hop-On Hop-Off bus from Tikkurila station in Vantaa and Nikkilä centre in Sipoo, that encircles the entire Sipoonkorpi National Park. You can reach Tikkurila station in Vantaa by bus, local train, or long-haul train. There is a direct train and bus connection both to the centre of Helsinki and the Helsinki-Vantaa International Airport.
There is a variety of tracks to walk, and Sipoonkorpi National Park is suitable for both quick passages with small children and for serious hikers, who prefer to spend the night in the outdoors. There are several fire pits for outdoor barbecues, and also designated areas for setting up your tents.
It is no coincidence, that the Sipoonkorpi National Park is called "the most foresty forest" of Finland. The variety of forest types is striking for such a limited area. Pictured here is the entrance to the National Park from Bakunkärr parking lot, which is also one of the spots served by the Hop-On Hop-Off bus service, a convenient way to arrive to the wilderness without your own car. Photo: Kristian Meurman
Take a dip in a lake or in the sea
Finland is called "The Land of a thousand lakes", which is not exactly true. Because, truthfully, there are approximately 168 000 lakes. Sipoo has its fair share of these and many of them are reachable and open to the public. Three lakes well worth checking out are Pilvijärvi, Taasjärvi and Abborträsk. The last mentioned is situated in the Sipoonkorpi National Park and is easily accessible with the Sipoonkorpi Hop-On Hop-Off bus service.
Sipoo has many lakes of which some are suitable for the entire family to enjoy on warm summer days, whereas others are wilderness lakes with a different kind of appeal. The beach of Taasjärvi is situated right next to the Söderkulla centre and is easily accessible both by car and public transport. Photo: Suvi Suovaara
The water of the Finnish Gulf may be rather cool at all times in the outer archipelago, but along the coastline and in the inner archipelago the summer temperatures can be very comfortable. There are quite a few places to take a dip in the sea too, one very popular site is on the island of Norrkullalandet. There is a free-of-charge ship service during summer months to the Municipality of Sipoo's recreational area that is free for everyone to use.
The archipelago of Sipoo is a unique environment with many nesting birds, small, enclosed water masses between large islands and further on open seas with stormy waters in the autumns. Since the distances are moderate, you can benefit from the best parts of the archipelago even if you only have a day or two to spare. Photo: Suvi Suovaara
Enjoy a picknick or benefit from the restaurants in the area
Sipoo has several quality restaurants for those, who like to indulge in gastronomic pleasures. For quick bites there are pizza and hamburger places, and several cafés also delight guests with fresh coffee and sweet and salty bites.
It is easy to pick up your own picknick treats from one of the many supermarkets, but most convenient by far, is to pick up your pre-made picknick cooler bag from one of the two restaurants offering this kind of service: På Krogen in Kalkkiranta and Restaurant Sibbe at Joensuun Tila travellers' centre.
In the idyllic Gumbostrand by the sea coast, west of Söderkulla, you can find both Bistro Burken as well as Konst & Form Art exhibition with a Bistro too. Gumbo Kiosk is located in Gumbostrand Harbor, opposite Bistro Burken.
And there are many more other nice restaurants in southern Sipoo such as Restaurant Veljekset and Box Café & Grill.
På Krogen restaurant's picnic bag comes ready with everything you need, from fresh salads to succulent ribs and delicious new potatoes with garlic. Everything is pre-cooked, so all you need to do is just heat the ribs and potatoes on the barbecue, unless you feel like eating them cool, which is absolutely fine too. You can even purchase a small bag of readily cut firewood from På Krogen. There are several free to use fire pits in the recreational areas of Sipoo archipelago! Photo: Kristian Meurman
Sipoo entrepreneurs are great in coming up with new ways to better serve both domestic and international guests. Extensive plans for easier access to the archipelago by different service means are being implemented and to complement the excellent restaurant and café services in Sipoo, some restaurants offer made-to-order picknick bags.
Enjoy the open seas and the unique archipelago
If you would like to see more of the archipelago than just watch it from the shore, there is the abovementioned option of taking a ship to the archipelago. You need not stay put on one island but can continue your journey on the ship to the next harbour, where you can conveniently take the bus back to where you first left for the sea.
There is also a completely new application platform called Bout that allows you to easily book a travel from one point to another by boat for a fixed price. This service is similar to the many taxi type apps that are used on land.
To get the most out of the archipelago, it is always worth the effort and money to book a charter boat to take you out for the entire day. Several transportation companies in Sipoo offer this kind of service for smaller or bigger parties.
The picturesque archipelago can be accessed by boat or ferry. You can rent a small rowing boat with a small outboard engine, use the convenient Bout app to book a ride or charter one of the many local transportation companies' vessels even for the whole day. Photo: Suvi Suovaara
Get all your hints and details from the Visit Sipoo webpage
The Municipality of Sipoo's official Visit Sipoo website has some hints for things to do and explore while in Sipoo as well as the most current and important information for travellers. You can also benefit from maps for travels both on land and at sea.
All - or at least most of - restaurants, cafés, accommodations, and other services are of course listed on the website, and you can even contact the municipality's different service sectors through it by e-mail or telephone.
Why go someplace else when you could go to Sipoo?
Sipoo is a vast area that is sparsely populated. But since it is also the fastest growing municipality in Finland, new innovative services pop up like mushrooms after rain. The people in Sipoo are well educated, friendly and always welcoming towards guests and travellers.
This is the place, where you can start your day on a forest path!
Links
--
Visit Sipoo - Sipoo - Sibbo - Here you can find more accommodations, places to eat and drink, explore and see in Sipoo.
--
Guesthouse Box Bed & Breakfast - Majatalo Box
The world's easiest picnic trip to the archipelago of Sipoo – pick up the delicacies from the harbour! - Sipoo - Sibbo
Journey Planner, tickets and fares, customer service - HSL.fi
--
Book your accommodation in Sipoo by zooming the Booking.com map here - or check the link here with accommodations in Sipoo and nearby - KivaaTekemista.fi / LikeFinland.com is an Affiliate Partner of Booking.com.
--
Sipoo municipality - Visit Sipoo (www -- FB) is a Star Destination and media customer of LikeFinland.com. (commercial cooperation)
--
Text: Kristian Meurman, Visit Sipoo
Kristian is a Finnish musician who likes nature and the archipelago. He has been in a university internship for the Municipality of Sipoo.
--
LikeFinland.com is a nationwide leisure time media and search service of Finnish destinations. You can like us on Facebook or follow on Twitter and Instagram. Our main website in Finnish is KivaaTekemista.fi.