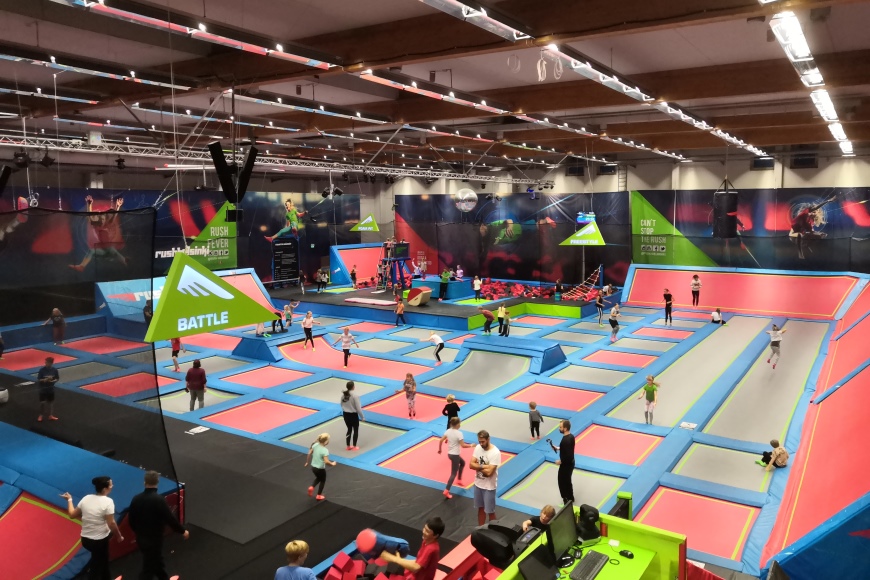 A trampoline park Rush Helsinki consist of ca. 3 000 square meters hall with activities in Pitäjänmäki, Helsinki. Photo: LikeFinland.com
Rush Helsinki was the first trampoline park in the Nordic countries when it was launched in the spring 2016.
Last years it has become the popular indoor park to have fun and sport with a family or friends – not forget Friends' Birthdays especially for kids, and Rush Park's own events like Night at Rush for teenagers!
We as a LikeFinland team, 2 kids of school age and 1 adult, visited and experienced Rush Helsinki this autumn. We were positively surprised how many and different kind of trampoline and bounching activities there really are at Rush.
Fun with family! Freestyle area with normal and wall trampolines, yellow giant tramps and a challenging Slackline! Photo: LikeFinland.com
Activities
We were enjoying a wide Freestyle area with tens of trampolines and trampoline streets, also giant trampolines near Dodgeball Arena, and a Foam Pit and jumps to the foams. We had a great time also in Wipeout; the kids were laughing when a supervisor put the speed high when the beam came close to me. :)
It was really sporty or even tough (!) – depending you and your own activity. A trampoline park experience is enjoyable way to keep yourself in good physical condition - and it's time for kids at the same time!
Rush is also suitable for adults without kids, because the trampolines are in good shape, and there are many games and challenges you can play and experiment. One of these (not the easiest!) is a special trampoline where you can jump on your back against the trampoline and then try to "Airwalk". It may require some practise.
The newest activity at Rush Helsinki, from summer 2019, is a Laser room, where you try to break laser rays with you hands and legs by jumping on trampolines together with another player! Please check more activities, like Slam Dunk, Stunt Jump, Battle Beam, Slackline etc. on the webpages of Rush: www
New on a trampoline: Jump by a scoot! Photo: LikeFinland.com
Good to know
When you go the first time to Rush, it is important to watch a safety video, which is continuously playing next to cloakroom boxes. The video takes some minutes and guides you to start. You have to be careful for example with edges of trampolines because they are much harder than the bounhching surface, even if the edges are also padded.
And jumping head first is not allowed at Rush, not even to the Foam Pit.
But the most important thing is that everybody could have fun and get a sport experience of their own level. Kids are also creative when moving with each other. There is friendly personnel at Rush guiding and helping you to bounch.
The people amount, which Rush takes in at the same time is limited up to 140 "bounchers" so that there is space enough for everyone, and also for safety reasons.
It is easy and smart to book a Rush experience in advance here, because the Park could be fully booked especially in weekends.
Mikko (left) is an entrepreneur and managing director of Rush, and Shpejtim is responsible of safety and maintenance. Photo: LikeFinland.com
Story of Rush Helsinki and Tips of Mikko
Rush Helsinki was established in 2016. Before that, Mikko Vihersalo, entrepreneur of Rush Finland, had been interested in trampoline parks, when they were growing in popularity in the US and also in Europe, f. ex. in GB.
Mikko was a fighter pilot as his former job, in Lapland Air Command, Rovaniemi. One way to practice back and neck to get used to g-forces for pilots is trampoline training. So Mikko was familiar with trampolines years ago.
Then it was time to make a decision. Helsinki was chosen the best location for the Park by Mikko and another co-owner. Nowadays Mikko is living in Helsinki with his wife and two sons. So the family moved from Finnish Lapland, Rovaniemi, south to Helsinki.
When I met friendly Mikko at Rush, he liked also to show me some activities himself. And then we played a Laser game together. Mikko wants people to have fun and sport at the same time.
Mikko shows in his own park how it works! :) Photo: LikeFinland.com
"Teenagers between 13-15 years are most likely to drop out of their hobbies, but for example here they can meet each other, spend nice time and have sport too", says Mikko.
"The most active girls have usually a backround in cheerleading or gymnastics, and they want to do flicks and tricks on trampoline streets. Correspondingly the boys have mainly used to "trampoline in the backyard" -culture, and they want to come here to do same jumps but in better circumstances than backyard - and also in winter time."
Mikko's tips for a starter:
Remember to drink. There are different (non-alcohol) drinks and cans available at Rush and also water, free of charge, or you can take your own plastic drinking bottle with you.
Remember to warm up and take the first 15 min easily especially if you're an adult.
Keep on your own level of skills.
Try harder tricks first to the foam pit, but forget them (harder tricks) if you are tired.
One of the nice, fresh Birthday rooms at Rush Helsinki. Photo: LikeFinland.com
Happenings, Happy Hours and Birthdays
Rush Helsinki is very active to organize many kind of sporty events. Nice music is played all the time, but did you know that every Wednesday, Friday and Saturday between 18pm - 20pm there is a special disco feeling with lights and music at Rush!
Night at Rush (sleeping over night!) for teenagers, next on Friday 22nd October
Rush After Dark K18, next on Wednesday 27th October
Family Time on Saturdays 9:30am – 12:00am and Sundays 10:30am – 12:00am (lower price)
Happy Hours Mon-Fri 1:30pm – 4:00pm
Birthday Parties for kids (www).
More prices (www) - and opening hours (www), presented also below. More about happenings also on social media, links below.

Easy to access by public transport. Photo: LikeFinland.com
CONTACT INFORMATION
Rush Helsinki (webpage and booking)
Valimotie 25
00380 Helsinki, Finland
info(a)rushfinland.fi
+358 400 498 800
Opening hours in autumn 2019: Mon-Fri 13pm - 20pm, Sat 9am - 20pm, Sun 9am - 19pm
Public transport: A-train to Valimo station, close to Rush.
Bus 54's final stop is located close to Rush. The bus lines 322, 37, 321, 321N, 332 have a bus stop by Vihdintie road, near Rush.
Parking place (payment by automat, or Easypark or Parkman), with a park receipt you'll get a discount on your Rush ticket.
Rush Helsinki on social media
We had fun in Rush and kids want again! Photo: LikeFinland.com
--
Text and photos: Henri Elo
We have chosen Rush Helsinki as the Destination of the Month in November 2019. Rush Helsinki is our Star Destination and media customer.
LikeFinland.com is a nationwide leisure time media and search service of Finnish destinations. You can like us on Facebook or follow on Twitter and Instagram. Our main website in Finnish is KivaaTekemista.fi.