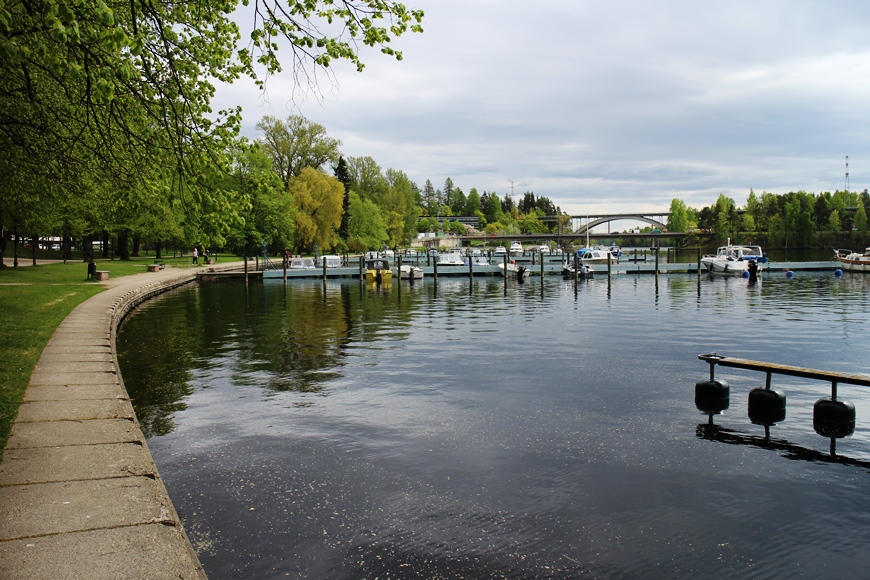 One of the most interesting summer towns in Finland is Heinola, which is located in Päijät-Häme province near Lahti. The distance from Helsinki to Heinola is about two hours by car.
Heinola is a special inland city because there are several big bridges around the city. One of them is a magnificent, nearly thousand feet long Tähtiniemi bridge - over Kymijoki river along Highway 5 - that was completed in 1993.
We had visited Heinola once before as we wrote about Harju Pavilion, which is considered as one of Finland's most beautiful cafés according to our readers. We had also visited earlier the Sport and Leisure Centre Vierumäki, located 13 km from the center of Heinola towards Lahti.
Photo: LikeFinland.com
MUST SEE DESTINATIONS OF HEINOLA
MUSEUMS
We visited two of Heinola's museums. Heinola City Museum, was built in 1872, having served previously as a town hall.
At the latest exhibition "Pienet Piimäsuut" (10.6 - 20.11.2017) visitors can look back at their childhood. There is a playroom upstairs, where children can try on old-fashioned clothes. They even have permission to draw on the certain wall!
The permanent exhibition contains nationally valuable collections, for exemple a large collection of items designed by Anja Juurikkala for the Arabia ceramics factory.
Heinola City Museum. Photo: LikeFinland.com
A short distance from the City Museum you will find Heinola Art Museum that organizes changing exhibitions all year round, and the amazing House of Chief Constable Aschan. While walking in the rooms of both museums and watching their Gustavian style furniture and decoration, you could well imagine yourself in the same era!
The renovation of the house that was built at the end of the 18th century (ca. 1780) was started by the city in 1986, and it was opened as a museum three years later. The Gustavian style furniture and interior decoration tells of the time, when Heinola was the seat of the Governor.
The paintings of Nils Schillmark, one of the first artists at the end of the 18th century, can also be seen on the walls. Also the garden of the house is laid out in late 18th-century style.
House of Aschan. Photo: LikeFinland.com
Heinola is also worth a visit because of the scenery of the Heinola National Heritage Area ('city park'). There are eight National Heritage Areas in Finland, of which Heinola belongs to the elders, together with Pori and Hämeenlinna.
Heinola has nice hiking trails. In Jyränkö, on the other side of the Kymijoki river, there is a trail called "Juustopolku" (16 km) to Vuolenkoski as well as a lighted trail (12 km) to Vierumäki Sports Center. Playgrounds for children can be found around the city.
Guest harbour of Heinola. Photo: LikeFinland.com
RANTACASINO
RantaCasino is a family-owned restaurant, and it has been operating in Heinola since 2003. The entrepeneurs, Marika and Stephen Cronin, also own and run a small Bed & breakfast Cronin's Café & Guesthouse (www) outside Heinola center.
RantaCasino is located at the picturesque harbour of Heinola. Restaurant's big sunny terrace at the river bank offers an unforgettable scenery.
RantaCasino. Photo: LikeFinland.com
RantaCasino, formerly a summer restaurant, has expanded its opening hours. Only in midwinter, in January, the restaurant is completely closed. There are also band nights and various events such as the popular Oktoberfest at RantaCasino.
RantaCasino serves great modern European food and festive dinner menus. Extensive lunch is available from Monday to Friday.
It would be nice to stay a little bit longer and enjoy the amazing sights over the river and try out, if it is really true that RantaCasino has the best and widest selection of beers and ciders in the town.
Photo: LikeFinland.com
RantaCasino Restaurant & Bar (www)
Maaherrankatu 2, HEINOLA
Tel. +358 40 192 1027
( +358 3 718 8666)


Heinola can be reached by water from Lahti and Jyväskylä. Boaters can find places from the guest harbour right next to the RantaCasino.

HEINOLA BIRD SANCTUARY
The idea behind the Heinola Bird Sanctuary is to take care of injured wild birds and return them back to the wild. In addition, it is an interesting destination especially for the families with children.
Heinola Bird Sanctuary was founded in 1963 at the initiative of Anthony Bosley. Bosley was interested in tropical birds. Birds are brought to Heinola from all over Finland. Approximately 30-40 % of injured birds can be returned to nature.

Photo: LikeFinland.com
In addition to domestic bird species, the Bird Sanctuary is home to pet birds that have been abandoned by their owners, such as parrots, poppies and cockroaches. Approximately 250-300 birds are given annual care, and some will stay there for years.
**
NEW IN LIKEFINLAND.com: The best photos and destinations in Finland by our readers! See more
**
Heinola Bird Sanctuary has also an interior exhibition room filled with Finnish bird and bird species and butterflies. Last summer, the QR code was added to the permanent exhibition, which gives the visitors more information about the animals.
Heinola Bird Sanctuary has free entrance.

Photo: LikeFinland.com
WAFFLE CAFÉ HARJU PAVILION
Beautiful Harju Pavilion, located on top of the ridge, in Harjupuisto Park, date back to the beginning of the 20th century, when an eastern-influenced Art Nouveau building served as a recreational venue for spa visitors.

Harju Pavilion. Photo: LikeFinland.com
The Harju Pavilion, which is known by its freshly baked sweet and savoury waffles is open now for the fifth summer.
Cafe entrepreneur Anne Koski told us about this summer's novelties. There has been changes in the waffle selection as well as in other coffee delicacies. Also salad dishes are available at the café this summer.

Photo: LikeFinland.com
Heinola Summer Theater nearby brings many of its customers to enjoy delicious waffles and the nice landscape over Kymijoki river.
In addition to the café, Harju pavilion has a great variety of live performers. Also the exhibition room upstairs offers many interesting exhibitions during the summer.
Harju Pavilion (www)
Kauppakatu 30, 18100 Heinola
Tel. +358 40 5619 522

Photo: LikeFinland.com


CAFÉ KAILAS
Café Kailas is a Central-European-style cafe located in a historical Siltasaari island.
The 5-year-old cafe is named after the poet Uuno Kailas, who was born in Heinola.
The café building is a former sauna, built by a merchant and the nobleman Niilo Helander for her wife Fanny a hundred years ago. Helander's villa in Siltasaari, was destroyed in the Russian air bombardment on the first day of the Continuation War in 1941.
Café Kailas. Photo: LikeFinland.com
Päivi Niemiaho and her husband Matti Kantola have renovated the island in accordance with the spirit of the early 20th century. The uniqueness of a small island with its delightful arched bridge, pond and gazebo is worth a visit!
Kailas offers delicious pastries that are baked by a local Pekan Leipä bakery.


Kailas cake. Photo: LikeFinland.com
There is also a playground for children in Siltasaari and an ice cream kiosk. On the terrace of Café Kailas you will see live performers during the summer.
Café Kailas (www)
Siltasaari 1, 18100 Heinola
tel. 044 74 77 001

Photo: LikeFinland.com
Interesting destinations in Heinola


Dorkin puisto park
The park is filled with thrilling and thought-provoking contemporary folk art. All of them are made of metal scrap by ITE artist Vesa Väänänen.
Heila Local Food Market
Heila local food market offers a varied selection of high-quality and cleanly produced food from small-scale producers.
Vierumäki sports and leisure centre
Active travellers' top destination: Flowpark adventure park, golf, tennis, sup-boarding, kayaking etc.


Heinola is known from the popular James jeans and the designer Anja Juurikkala. Photo: LikeFinland.com

Shopping destinations
Nature destinations

Activities
For children
Accommodation
Cafés and restaurants


**
City of Heinola, RantaCasino, Café Kailas and Harju Pavilion are Star Destinations and media customers of LikeFinland.com media.

Text: Sari Särkijärvi, Henri Elo
***
LikeFinland.com is a nationwide leisure time media and search service of Finnish destinations. You can like us in Facebook or follow in Twitter and Instagram.
Our main website in Finnish is www.KivaaTekemista.fi.