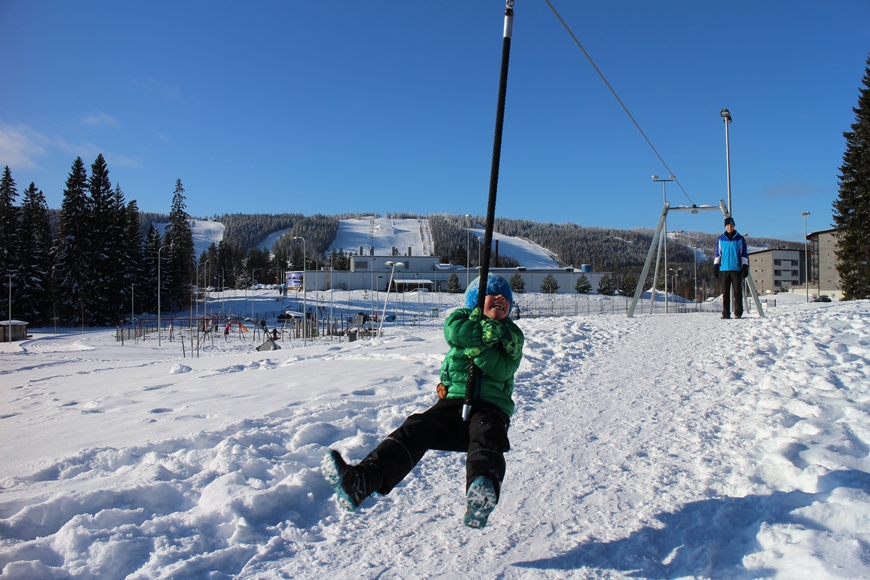 We have spent most of our winter holidays in Finnish Lapland. This time we decided to try something else. We headed to the heart of the Lakeland area of Finland: Tahko Ski Resort in Nilsiä, in Northern Savonia. We had visited Tahko once before in summertime, and we were just thinking that Tahko was a liitle bit like Alpine village in Austria, where we have visited earlier.
Tahko is located approx. 11 km from the center of Nilsiä and approx. 65 km from the center of Kuopio city - the capital of Savonia.



Photo: LikeFinland.com


A wide range of slopes
Tahko is one of the largest and most diverse ski resort compared to those in Southern and Central Finland. Tahko slope has up to 200 meters elevation difference.
Tahko has slopes for skiers of different levels in both sides of Tahko mountain.
Eetu 5 yrs were practicing snowboarding with mother, while Aada 9 yrs explored the bigger slopes with dad. A slight children's slope with a carpet lift at the bottom of the front slope was just perfect for the beginner.
The front slopes on the left may be too challenging for beginners. Most gentle slopes - 700-meter-long 'Westerns easy', that was opened last season, can be found on the other side of Tahko, on the West slopes.

Photo: LikeFinland.com

Versatile Tahko
Tahko offers plenty of indoor activities at Tahko Spa centre: a bowling hall, gym, fitness center and a multifunctional arena, where you can play indoor games: badminton, table tennis, floorball and football. A surprisingly wide setting of everything!
If you don't have your own sports equipment with you, you can rent cross-country skiing and ski equipment as well as snow shoes and toboggan from Tahko's SciMac Promenade and SciMac Tirol Ski Rentals.
Stylish accommodation
We stayed at Tahko Spa Hotel's stylish Vuori Apartment of two bedrooms, a living area, fully equipped kitchen, a sauna and a glassed-in balcony with great views directly to the Tahko slopes. Each apartment has an external storage place for skiing equipment on the ground floor.
The apartment was equipped also with two tellys, a washing machine and a drying machine.
A breakfast at Tahko Spa Hotel Restaurant Trattoria was plentiful and tasty with fresh bread, fruits, and the American-style pancake and with real croissants! The breakfast is offered at an additional fee.

Vuori Apartment at Tahko Spa Hotel. Photo: LikeFinland.com

Childrens favorite - Tahko Spa
After a long day on the slopes it was nice to go to a spa in the evening. The children were very excited about it - they had waited for it long before our arrival to Tahko. Although the day had been long, they were full of energy.
There are four pools at Tahko Spa, one for the smallest children's water play, the other for older children and a third 140-meter-deep for childrenm who can swim. For adults and for active swimmers there are a 25 m pool – added with a flatable Wibit water adventure course during the high season. The Spa also has a Jacuzzi, a waterslide and a pool bar.
Although there were lots of people in the Spa, it was a nice experience for all of us. Successful diving exercises and the first waterslide experiences without a parent left nice memories to the childrens' minds. Those memories will be remembered for a long time. :)
Tahko Spa is really good for families with children. Outside the high season there ais even more space for adults to relax in jacuzzis.

Tahko Spa. Photo: Kuopio-Tahko Marketing


First-class cross country skiing tracks
The skiing tracks of Tahko area were in really good condition. There was surprisingly tranquil in skiing tracks, so it was nice to enjoy views and voices of the nature.
We made a skiing trip to a skiing café "Latukahvio" near Tahko. The café is known for its delicious "Munkki" -donuts. The entrepreneurs Pertti and Päivi Huovinen arrange also reindeer safaris.
A distance from Tahko center to skiing café and back were approx. 9 km. Thanks to Tahko's well maintained skiing tracks the trip was a nice experience also for children.

Tahkolahti. Photo: LikeFinland.com

Tahko Farm
We planned to visit Tahko Farm petting zoo on our departure day. At the farm we saw alpacas, goats, sheep, pigs, ducks, roosters, chickens, miniature ponies and bunnies. The animals seemed happy and healthy. :)
The best thing was that we were allowed to touch and feed the animals with carrots and apples that we received from the reception - however, following the certain rules.
In addition to Tahko Farm petting zoo and its activities, entrepeneurs Hannu Puustinen and his wife Minna Kirjavainen-Puustinen offer cottage accommodation. Hannu recommended to try a frozen toboggan hill close to the farm. Use of a helmet is recommended especially for smaller children.
Tahko Farm arranges horse safaris, pony ride, riding lessons, buggy ride etc. at an additional fee. Tahko Farm is open all year round.

Tahko Farm. Photo: Likefinland.com

Other activities for children
Next to Tahko Spa there is an activity park that combines a sport ground and a playground with different game equipment, a wire rope glider and parkour area. In winter, if the weather permits, there is a skating rink in the park.
In Tahko area you can find also babysitting services and a pet hotel.


Nice restaurants
Tahko has plenty of nice restaurants. We did not have time to visit as many as we would have wanted. Restaurant Tirol, at the sub-station of Tahko front slopes, was one of our favorites. The atmosphere in Tirol was like in alpine village. The dim lighting and a real fire in the fireplace brought to the restaurant warm and welcoming atmosphere. Also, the service was fast and friendly.
Tirol restaurant had been renewed for this season. The ownership had changed as well as the menu, being now more classy. During the high season Restaurant Tirol organizes children's discos and candy lotteries.

Children's Burger. Photo: LikeFinland.com

An lunch time of our alpine skiing day, we visited Restaurant Kaisla, which impressed us with its tasty homemade food and delicious pastries. The restaurant is located next to the Piazza Restaurant, just along the skiing tracks, near the gulf and skiing tracks.



Restaurant Kaisla. Photo: LikeFinland.com

Last but not least, we enjoyed lunch in Restaurant Rehti. Rehti's entrepreneurs Ilkka and Raili Aapajärvi and daughter Suvi Valtonen invest in genuine tastes and in raw materials of high-quality. The Restaurant is open all year-round. Children's menu is one of a kind.



Restaurant Rehti. Photo: LikeFinland.com

Tahko Panorama Bar & Cafe on the top of the front slopes has expanded its facilities to 70 seats. Also UKKO Restaurant at the heart of Tahko center was re-opened in December 2016.
Other popular restaurants in Tahko are Break Sokos Hotel Tahko's Restaurant Hillside, and Restaurant Mosquito serving American cuisine and Mexican flavors.
More information about Tahko's Restaurants
Tahko in figures (March 2017)
Natural snow 55 cm
24/24 slopes (read more)
lifts 16/16
Cross-Country skiing tracks 61 km (read more)
Snowmobile trails 84 km



Panorama Bar & Café. Photo: LikeFinland.com

Upcoming events
24.-25.3. Kunkkupilkki - the first ice-fishing competition in Tahko's History (evening program's main star is Samantha Fox)
1.4. Tahko Winter ExtremeRun
13.-16.4. Tahko's Easter
Tahko has great performers through the season.
Further information about the events

Feelings after holiday
Tahko is a nice and compact ski resort.
A good thing in Tahko is that everything you need is close to you: skiing slopes, cross-country skiing tracks, restaurants, grocery stores, Spa and Tahko Farm. We didn't need our car at all during our 4-day holiday.
Tahko seems to be a good and versatile holiday destination for families all year round. We received very good benefits with Tahko Kids bracelets: children's theater was free of charge as well as desserts in a few restaurants. The bracelets are available in certain seasons.
Our kids liked most the chair lift of skiing slopes, and the water slide of Tahko Spa. We (adults) were impressed by Tahko's well maintained cross-country skiing tracks and friendly service. We would have enjoyed a longer stay in Tahko.

Photo: LikeFinland.com


Contact information
Central Booking Agency TAHKOcom (www, Facebook)
Tahkolaaksontie 4 A
73310 Tahkovuori
tel. +358 17 481 400
Tahko Spa Hotel (www, Facebook)
Keitaankatu 1
73310 Tahkovuori
tel. +358 600 550 148 (sales)
Kuopio-Tahko area (www, Facebook)


***
Text: Sari Särkijärvi, Henri Elo
LikeFinland.com is a nationwide leisure time media and search service of Finnish destinations. You can like us in Facebook or follow in Twitter and Instagram.
Our main website in Finnish is www.KivaaTekemista.fi.