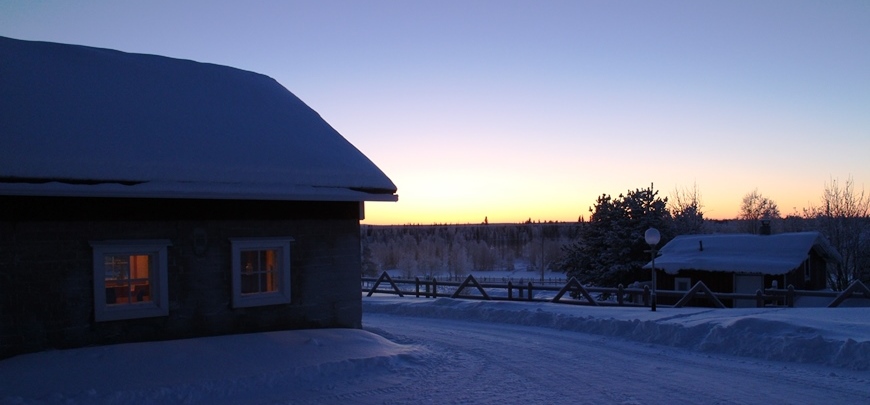 There are incredibly lively small villages in Finland. We visited a small Kierinki village in the municipality of Sodankylä in Northern Finland at the beginning of January.
The weather was extremely cold when we arrived to Kierinki. At the same time as we followed the car thermometer falling down to -38 degrees Celsius, we could not stop admiring the relaxing view and the amazingly beautiful colors on the sky.

Kieringintie-road. Photo: LikeFinland.com
We visited Kierinki during the "kaamos" (a polar night season).
Although the sun does not rise above the horizon during the polar night, it does not mean that the winter time in Lapland would only be dark. There are only a few hours of daylight, but the colors and the prevailing peace of the nature - not forgetting the Northern Lights - are precisely those things, which is why many tourists come to Lapland just during the polar night time.
The Polar night period lasts from December to January. Everyone should experience "kaamos" at least once in a lifetime. The length of kaamos varies from a few days to couple of months, and the length depends on how far you are from the Arctic Circle.
The story of Kierinki is unique. The village was spared from destruction of the Lapland War (1944-1945). That is why there still can be found old and spectacular buildings.

The main building of Hietala. Photo: LikeFinland.com
One of them, approx. 100-year-old Hietala house and its origin Ostrobothnian farmstead, was renovated by entrepreneurs Paavo and Teija Holopainen (cur. Raaterova).
The graceful, yellow Hietala building cannot go unnoticed when arriving to the village of Kierinki. Hietala operates as a restaurant and as a grand venue for parties, meetings and events. In the beautiful and idyllic courtyard, there are the Maailman pienin pubi ("World's smallest pub"), Latobaari ("Barn Bar") and the Pikkupuoli Gallery buildings. The premises operate as a restaurant and meeting premises as well as exhibition premises.

Paintings by Teija Raaterova. Photo: LikeFinland.com
Both guests and locals were celebrating New Year 2017 in Hietala together by singing karaoke and eating local delicacies: meat of highland cattle and elk, salmon, whitefish and vendace.
Hietala's treasures include art by Teija and her daughter Inari Raaterova, handicrafts and hunting trophies. All pieces of art in the Hietala premises tell about the mysticism and tradition of Lapland.
Photo: LikeFinland.com
In the early 1900s Kierinki was a very vibrant village with its own sawmill, planing mill, private schools and self-built roads.
In the 1960s, the village had 870 inhabitants at its best. At that time the village had even two shops and a smithy, where a famous finnish knife maker Janne Marttiini had his first job at the age of 16 as an apprentice of a blacksmith.
**

LikeFinland.com is a nationwide leisure time media and search service of Finnish destinations. Would you like us to write about your destination for tourists. Please let us know.
**
Cozy accommodation - magnificent new hotel
The magnificent new hotel "Guesthouse" was opened to visitors in December 2016. The guesthouse has 12 double rooms with a country living interior design, a common comfortable living area, a sauna and a small kitchen. There has already arrived guests to Kierinki from Germany, France, the Netherlands, Switzerland, Russia, Latvia, and Finland, respectively.

The new Guesthouse. Photo: LikeFinland.com
Other accomodation alternatives in Kierinki consist of holiday village apartments and charming "grandma cabins". There is also a caravan area and a tent village of 10 furnished tents.

Grandma cabins. Photo: LikeFinland.com
Kierinki Shop & Café became a living room for the locals
Kierinki had already lost their grocery shop, but thanks to Paavo and Teija, Kierinki got it back. The shop was opened again in the summer of 2011. It is not just a shop anymore. It offers a wide range of services: groceries, lottery and betting, fishing permits, as well as local art or souvenirs.
The reception for Kierinki Holiday Village accommodation services is located at the shop, as is the breakfast and lunch restaurant. The large sun terrace serves from early in the spring to long in to the autumn. There is a petrol station in connection with the shop.
Since Kierinki has no longer bars, the locals use to come there for a drink and meet other people. Kierinki café serves mild alcoholic beverages and wines.
Kierinki Shop & Cafe. Photo: LikeFinland.com
Way into the wilderness - but still close to everything
Although Kierinki is located in the middle of nowhere, from the village it is easy to go for a day trip to skiing resorts like Ylläs, Levi or Luosto, or to the capital of Finnish Lapland, Rovaniemi. All of them are slightly over one hour's drive away by car.
"Kierinki is located in the center of everything. You don't have to spend all your holiday in one place. You can make day trips by car to different places", Teija says.
"Kierinki is a good place for visitors from foreign countries as well as for Finnish travelers, who appreciate the peace and the countryside." Teija hopes that the people would understand the importance of rural areas.
The village of Kierinki has been nationally assessed to be a significant scenery area in the Finnish Lapland. Kierinki offers their guests Lappish experiences in a beautiful original setting, in their own genuine way. Dog sled, horse and reindeer safaris, snowmobiling, snowshoeing, skiing and kick sledding can be arranged through them.
Northern Lights can be experienced in the yard of our guesthouse, but an unforgettable experience can be sought in the wilderness, where the only light is that of the stars and the northern lights.

Ritzo ten Cate. Photo: LikeFinland.com
When we - LikeFinland team - visited Kierinki in January 2017, we also met friendly Ritzo ten Cate from The Netherlands. Ritzo had come to Kierinki to enjoy the nature of Lapland and to recharge his batteries after a busy year. "The best thing about this place is a pure nature and the millions of trees and lakes."
Ritzo had enjoyed the wilderness by walking over 100 km in one week using Topo Gps app in his mobile phone. "The darkness and coldness surprised me. It was crazy that it was dark in the morning when I woke up, and in the afternoon around two to three p.m. it was dark again."

Dog sledding on skis. Photo by Teija Raaterova.
Kierinki region consist of sparsely populated forest-Lapland. There are villages only here and there. From the northern side of Kierinki there begins a wide marshland.
Things to do in winter: reindeer feeding, dog sledding, snowmobiling, cross-country skiing.
Things to do in summer: ATV / buggy safaris, fishing, canoeing, hiking.
Toboggans and kick sleds in the winter as well as bikes in the summer can be borrowed from the Kierinki Shop & Café.
Popular events
Theatre Festival - July
Country fair - 1st week of September


Upcoming events
3.-5.3. Gathering for snowmobile enthusiasts:
Comfortable accommodation, good food, sauna, karaoke, off-road -driving etc.
Further information: tel. +358 (0)40 8091610.



Teija Raaterova (in the middle), her daughter Malla (left) and Airi Kangas, a chairman of Kierinki Development Association (right). Cheerful shop keeper Outi Kaisanlahti (below). Photos: LikeFinland.com


Kierinki surprised us
Kierinki surprised us in many ways. We could not have imagined how great things we would find in Kierinki: nice people, admirable energetic entrepreneurial spirit, beautiful buildings, modern hotel rooms and charming granny cottages - not to forget the art.
Extensive marshland would be nice to explore some day. The most memorable thing in Kierinki was a friendliness and immediacy of the people. And the fact that everything is possible, when you have the energy and desire to keep the countryside alive in Lapland.
When you travel to Lapland by car, remember to watch out the reindeers, as well as other cars when you arrive to the main road after having driven tens of kilometers in a narrow and silent Kieringintie-road.
***
Kierinki Village
Tuirantie 4
97390 KIERINKI (Sodankylä)
FINLAND

Tel. + 358 40 809 1610
Email. teija.raaterova(a)kieringinloma.fi
***
Text: Sari Särkijärvi, Henri Elo
LikeFinland.com is a nationwide leisure time media and search service of Finnish destinations. You can like us in Facebook or follow in Twitter and Instagram.
Our main website in Finnish is www.KivaaTekemista.fi.