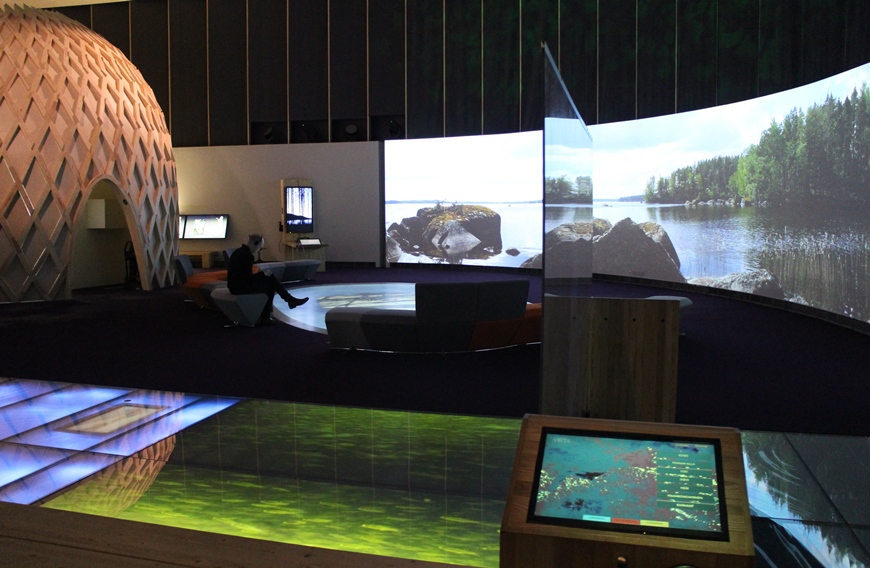 LikeFinland team visited the Finnish Nature Centre Haltia on a sunny spring day in March. Haltia is located by a beautiful Nuuksion Pitkäjärvi Lake in Espoo, to the west of Helsinki. You can just take a bus from Espoo Centre 'Espoon keskus'.
A wooden building with large windows, designed by architect Rainer Mahlamäki, was opened to the public in May 2013. Haltia has a fantastic location in the metropolitan area, but it is still near the nature and away from Espoo and Helsinki cities.

Haltia is funded by cities of Espoo and Helsinki, as well as the nearby municipalities and cities (Vantaa, Kauniainen, Kirkkonummi, Vihti), Metsähallitus Parks & Wildlife Finland and Solvalla Nedre Ab.

The Nature Centre's purpose is to familiarize people to the nature and give them a sparkle to go outside - and explore the nature of the whole Finland!



Photo: LikeFinland.com

In Haltia you can get familiar with a Finnish environmentally-aware architecture, art and eco-technologies. Haltia is the first public building in Finland built entirely of massive wood elements. Large windows bring in lots of natural light. Nature seems to be close to you, even if you are inside.

The environment has been taken into account in Haltia's facilities and activities through skillful design and the latest ecological solutions. Among other features, the building is heated and cooled with energy derived from the sun and the earth cover.

Haltia is a gate to Finland's beautiful nature destinations. You are able to experience all the seasons at the same time and dive into the magnificent scenery of Finland's national parks. Haltia is an excellent place to visit for those, who don't have the opportunity or time to go to nature.

Haltia works as a customer service point for visitors of Nuuksio National Park, but also for those who are planning a trip to Sipoonkorpi National Park, east of Helsinki, or to the fortress island of Vallisaari in the coast of Helsinki. Vallisaari was opened to the public last summer. In the main exhibition area of Haltia it is possible to make a virtual tour in Vallisaari.

Map of Vallisaari. Photo: LikeFinland.com

The Nature Centre consists of three exhibition areas: The main exhibition, Green Belt exhibition, and the special exhibition. In addition to these, there is an exhibition area outside of the building. New outdoor exhibition, "The man and the wolves" by a world-renowned wolf-photographer Jim Brandenburg, will be opened in May.


HALTIA SHOP & LIBRARY

From Haltia Shop you can buy for example maps for hiking trips as well as books, jewellery, CDs, souvenirs and other gift items related to nature and hiking.

The shop is situated in Haltia's main lobby. Near the shop, there is also a library and reading corner, where you can find information about national parks, hiking and nature. The library's selection includes outdoor activity maps, online maps, brochures, hiking magazines, and books.



Photo: LikeFinland.com


NEW EXHIBITION: COMEDY WILDLIFE PHOTOGRAPHY AWARDS - THE WORLD'S FUNNIEST WILDLIFE PHOTOS AT HALTIA

The new special exhibition at Finnish Nature Center Haltia is an humorous photo composition of wild animals in funny real life situations. The exhibition is based on the competition - The Comedy Wildlife Photography Awards. The physical exhibition had it's World premiere on 4th of March, and it will be ongoing until fall of 2017.

The aim of the competition is to raise awareness and advance the conservation of nature and animals through joy and positive feelings. The competition is open for all. It is only allowed to photograph wild animals in their natural environments. Funny picture should be taken without disturbing the wildlife.

All of the photos at the exhibition are for sale and the profit will be donated to the Born Free Foundation, which is a wildlife charity working throughout the world to stop individual wild animal suffering and protect threatened species in the wild.

There were 56 fun and captivating photographic works. The funny photos of animals, their expressions and attitudes are interesting for people of all ages.



Photo: LikeFinland.com


MAIN EXHIBITON

We noticed some changes at the Main exhibition area compared to our previous visit in Haltia a few years ago. It was great to see that Haltia tends to be renewed over time, which makes it even more attractive destination.

The Snowy Canyon, leading to the main exhibition space, describes life on the snow, in it and under it.

After the Canyon you can see a large wooden Duck Egg and a wide panorama screen, where you can watch changing presentations and stunning sceneries of Finland's national parks. Photos are taken by well-known nature photographers and are updated from time to time.

One of our favorites was Touch the Nature touchscreens, where you can explore all the 39 Finnish National Parks!

We tried a new voice guidance in Haltia; a visitor gets a headset and a simple remote control. Voice guidance is available in Finnish, Swedish and English.

Guidance in Russian, Chinese, Japanese, German, French and Italian is also possible, but should be booked in advance.



The Snowy Canyon of Haltia. Photo: LikeFinland.com


FUN THINGS TO DO FOR KIDS

The Visitor Center organizes plenty of events for families. In the first Saturday of every month, there is a Kids Nature Saturday in Haltia.

Alina from Haltia told us that, the kids like especially the animal nests of the main exhibition as well as the Snowy Canyon. For children there are also tasks related to the main show.




You can go to the bear's nest! :) Photo: LikeFinland.com


GREEN BELT EXHIBITION

The Helsinki Metropolitan Area differs from the other capitals of the world with its exceptionally wide green territory.

The protected and recreational areas of the Helsinki Metropolitan Area form a so-called Green Belt - from Sipoonkorpi National Park in Sipoo in east side of Helsinki to the west coast, Porkkalanniemi in Kirkkonummi. The Green Belt includes the archipelago, the coast, forests, lakes, rivers, bogs and cultural landscapes.

The Green Belt exhibition introduces visitors to the natural environment of the Helsinki Metropolitan Area, providing information on the destinations' natural values, history, program and guide activities as well as equipment rental and recreational services. Some of them may be unknown to even the residents of this area.

At the Green Belt Exhibition you can sit back and look at the panoramic images that change according to the four seasons, spring, summer, autumn, winter. The exhibition will be redeveloped during the spring.




Photo: LikeFinland.com


NUUKSIO NATIONAL PARK
Nuuksio National Park is one of the most popular nature destinations among the citizens of the Helsinki Metropolitan Area. The National Park turns 23 this year. It has an area of ​​55 square kilometers, extending to Espoo, Kirkkonummi and Vihti municipalities.

Nature center is located right next to Nuuksio National Park. The marked hiking trails starts from right next to the Haltia parking lots. A connection trail to National Park's main entrance Haukkalampi is 4,6 km.

The National Park can be reached in many different routes. Parking is available at different parts of the national park and its edges. Bus number 245 from Espoo Centre drives to Nuuksio all year round.

The Nuuksio National Park covers the westernmost part of the Nuuksio lake uplands, which is the largest and, as regards natural values, most important continuous wilderness area in the Uusimaa Region. Nuuksio boasts beautiful glens, steep gullies, rocks, groves, lakes, ponds and bogs.

Dozens of endangered and rare animal, plant and fungi species have been found there.

Nuuksio National Park has a total of approx. 33 kilometers of marked hiking trails. Cooking shelters and camping areas make the park an excellent hiking destination.

Nearly 350 000 hikers visited Nuuksio last year. Finnish Nature Centre Haltia had allmost 180 000 visitors. The Visitor Center is open from Tuesday to Sunday throughout the year, in summer time (from May) also on Mondays.




Photo: LikeFinland.com


MOODS AFTER THE DAY

Haltia is a surprisingly large entity and it may easily take several hours to make the most of it.

Haltia was memorable because of its versatility. Many do not realize that Haltia provides not only nature experiences but also cultural experiences. There is an art exhibition and also the building itself is a kind of a work of art - Finnish architecture and ultra-modern ecological solutions are worth introducing for foreign guests.

When you sit down to watch the video presentation at the main exhibition, you can easily imagine yourself sitting on a rock admiring a beautiful lake scenery and feel the peace and presence of the nature. If you like nature, Haltia visit is the excellent way just to enjoy and relax, as we did in our visit. :)

Right after the visit I started to think and make some plans, of which nature destinations I would like to see and visit next in Finland.

In connection with the Nature Centre, there is a restaurant Haltia on the second-floor. It is definitely worth to visit because of its generous lunch buffet. Pure and near produced Finnish food with genuine taste makes the experience even better. In warm weather, food can be enjoyed in the restaurant's outdoor terrace, which offers stunning views over the Nuuksion Pitkäjärvi Lake and the forests. More information

** "Nature on the plate" lunch 18 € / adult, 9 € / 4-12 years, children under 4 years eat for free with an adult **




Photo: Tara Whiteman


ACCESSIBLE HALTIA

Haltia is easy to access. Haltia was designed to enable wheelchair users to get almost to all parts of the building except for example the Pohjannaula tower.

At Haltia, you can also go out to enjoy nature in a wheelchair or with children's pushchairs at nearby Maahisenkierros nature trail. The trail is 1.8 kilometres long. Due to the varying terrain in the area, the trail is classified as a demanding wheelchair trail, and persons in wheelchairs need to bring an assistant with them.

Haltia's lighting has also been designed to enable the visually impaired to get around in the building.
More information



Photo: LikeFinland.com


CONTACT INFORMATION

Finnish Nature Centre Haltia (www)
Nuuksiontie 84, 02820 ESPOO

Tel. +358 (0)40 163 6200


OPENING HOURS
Winter, October 1 - April 30
9:30 AM – 5 PM, TUE-SAT (Closed on Mondays)
Summer, May 1 - September 30
10:00 AM - 6:00 PM, DAILY


TICKET PRICES
Adults 12 € (including all exhibitions and audio guide)
Children 5 € (7 - 17 years old) + 2€ if audio guide is included
Children under 7 years of age no entrance fee
Family ticket 25 € (including 1–2 adults and 1–4 children + audio guides)

Annual ticket 16 € (personal)
Ticket prices include VAT 10%
Guided tours 95 € / h for max. 25 persons / group (incl. VAT 24%).


USEFUL LINKS
NuuksioResort - nature activities and services in Nuuksio area
***
Text: Sari Särkijärvi, Henri Elo
LikeFinland.com is a nationwide leisure time media and search service of Finnish destinations. You can like us in Facebook or follow in Twitter and Instagram.
Our main website in Finnish is www.KivaaTekemista.fi.