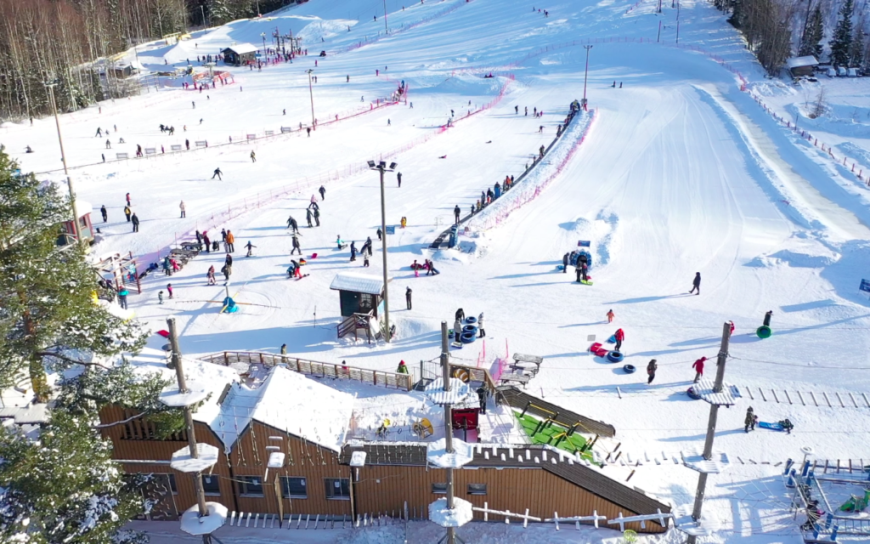 Werneri Park with its premises and equipment (snow tubes, sledges etc.) is a nice place to spend a winter day with kids. Photo: Talma Ski
Did you know that there is a winter near Helsinki, even if it rains at your home or backyard. Yes, dozens of snow cannons are taking care that you can enjoy a great snowy winter day in Talma Ski!
It takes only around 30 minutes from Helsinki or Vantaa by car to Talma, which is located in Sipoo municipality, just a few kilometres from Kerava, or Highway 4, towards east.
Well, the snow cannons have mainly done their job for this season. All the slopes are open!
Talma Ski Restaurant is located close to the center and Werneri Park. Photo: LikeFinland.com
The slopes are now in good shape and fully open, including 2 snow parks and Werneri Park for the whole family. Werneri Park is the area one can use Talma's sledges, toboggans, snow tubes, stigas etc. - and go downhill by them! A carpet lift pulls you up on the top of the hill.
There are totally 7 ski lifts in Talma Ski. Two of them are carpet lifts on practising slopes and in Werneri Park. So, you don't need any equipment of your own for the Werneri Park, maybe some sausages to grill... Or then you can choose the Talma Ski Restaurant nearby as well!
Five remaining lifts consist of four telescope lifts (on both sides of the main slope) and a ring lift. They are easy to use as well.
Werneri Park in the evening. One need a ticket (from 4-year-olds to adults), or you can choose a family ticket - also skiing tickets are valid to Werneri. Rasmus and Jere were serving people in the Ski Shop / rental. Photos: LikeFinland.com
Of course, there is a ski and snowboard rental service in the same building as ticket sales. You can find a Talma Ski School service desk there too. The ski school is active in Talma with several skiing instructors in different languages, and Talma Ski was chosen as the Local Resort of the year 2020 in Finland by the Finnish Ski Area Association.
However, one should book the skiing lesson in advance if needed. There are both individual and group lessons available, from kids to adults. And practising is done on a slope with the guidance of skilled instructors.
--
Book your accommodation in Sipoo by zooming the Booking.com map here - or check the link here with accommodations in Sipoo and nearby - KivaaTekemista.fi / LikeFinland.com is an Affiliate Partner of Booking.com.
--
Views from the front slope lift line, family slope, snow park, and finally we went to Werneri Park. Photos: LikeFinland.com
We - 2 kids and 1 adult - enjoyed a Talma day by skis, both own and rented. When kids are growing, it's easy also to rent if you are not so active to ski. The rental equipment is new or newish, and what's the best is that the skiing helmet is included in the rental set too.
After downhill skiing we enjoyed the meals, both soup, nuggets and french fries, in Talma Ski Restaurant. Finally we went to the Werneri Park going downhill by snow tubes and carpets!
It was a funny and sporty outdoor day in the early December of 2021 for us.
Talma Ski is one of the earliest places with snow in Southern Finland and beautiful also in the evening light. Photo: LikeFinland.com
Did you know that the height of Talma hill is 55 metres, and there are slopes and snow parks both in front and back sides of the main hill. Practising slopes and Werneri Park are located right next to the ski center.
--
Book your accommodation in Sipoo by zooming the Booking.com map here - or check the link here with accommodations in Sipoo and nearby - KivaaTekemista.fi / LikeFinland.com is an Affiliate Partner of Booking.com.
--
❄❄
Talma Ski - contact info
Talma webpages in English (incl. opening times)
Tickets +358 (0)400 716 882 info(at)talmaski.fi
Rental and Ski Shop +358 (0)400 716 866
Ski School +358 (0)44 574 9070, hiihdonopetus(at)talmaski.fi
Restaurant +358 (0)400 716 856, ravintola(at)talmaski.fi
Talmantie 341
04240 SIPOO
(for navigator: Norantie 1, Sipoo)
Talma @ Facebook (www)
Talma @ Instagram (www)
❄❄
--
Text: Henri Elo / LikeFinland.com
Talma Ski (www -- FB) is a Star Destination and media customer of LikeFinland.com. (commercial cooperation)
--
LikeFinland.com is a nationwide leisure time media and search service of Finnish destinations. You can like us on Facebook or follow on Twitter and Instagram. Our main website in Finnish is KivaaTekemista.fi.