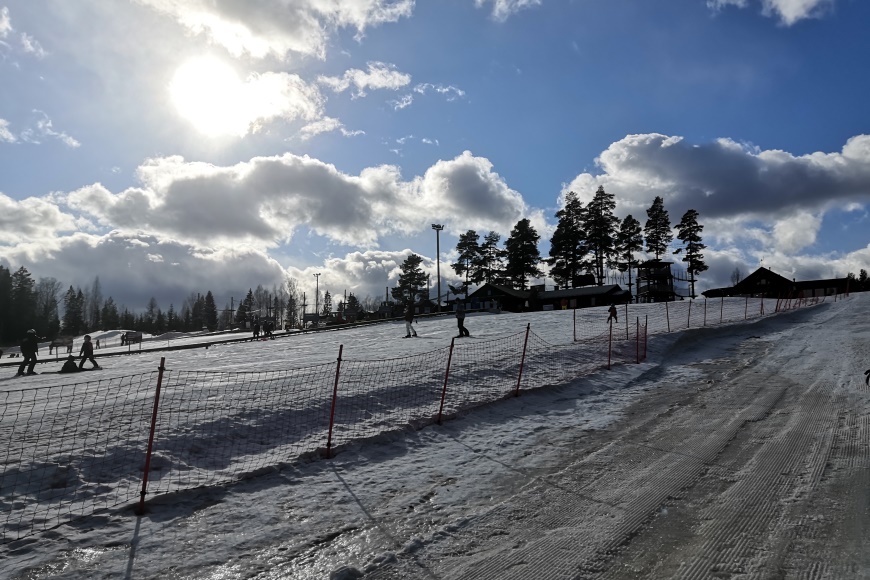 Nice view in the afternoon from the platter lift line of the practise slope in March 2020. Photo: LikeFinalnd.com
We spent a great time in Talma in March 2020. Talma Ski is a skiing and outdoor resort in Sipoo municipality, near Helsinki and Vantaa.
It has been hard winter for skiing resorts in Southern Finland because of warmer weather than normally. Still, Talma has been able to be open over 100 skiing days also in this season, even if the all slopes have not been open.
We visited first time in Talma this season at the end of December. That day the family slope and main snow park were closed due to snow making by snow cannons. The system is very developed in Talma; in this kind of winter they make new snow by snow cannons almost every time, when the temperature goes under zero.
That's the way the resorts can offer great downhill skiing and snowboarding circumstances for people also in Southern Finland!
From left up to down right: the view from the center towards the hill; the family slope lift line; a new building for 'take a break' in Werneri Park; and a snowcat at the top of the hill, as a mark that back slopes are closed. Photos: LikeFinland.com
It was really nice to enjoy winter, speed and sun in Talma in the middle of March 2020!
The snow, sun and outdoor are so relaxing. My - and the most of us in Southern Finland - winter experiences have been limited in this season, even if the alpine skiing resorts, municipalities and cross-country skiing clubs have done a great job to offer circumstances on a smaller scale.
In Talma's Werneri Park area there is a totally new building. Werneri Park is an area for children with sleds, toboggans, tubes and an easy carpet lift. The building is very practical; there are more rooms and tables for birthday parties, sausage frying and enjoing own food. In Talma there is also a nice restaurant with delicious Thai menu as well as hamburger, pizza and ´home-made food´ like meatballs with mashed potatous.
And yes, I think it's safe to experince outdoor actiivites also in this 'korona time'. You can keep a wise distance to other people, take care of hand hygiene, and stay home if feeling sick.
In Sipoonkorpi National Park one can really feel the nature and peace. The park was opened in 2011. Photos: LikeFinland.com
I had a great possibility to participate a hiking trip in Sipoonkorpi National Park in the beginning of January 2020. The length of the hike was around 20 km and 7 hours, from Nikinmäki, Vantaa to Landbo in Helsinki area, across the park from north to south.
There are also routes with guide signs in Sipoonkorpi. You can get more info here (National parks in Finland), and choose "Sipoonkorpi". The park is one of the newest national parks in Finland. The Finnish Nature Center Haltia in Espoo offer much infromation about national parks in Finland.
Did you know that there are nice art exhibitions - like Gumbostrand Konst & Form - restaurents and B&Bs (Visit Sipoo) as well as REKO local food service (FB group) in Sipoo, last one connected to Guesthouse Box & Handelsmans Café every other Friday.
Back to Talma! :) Talma is also a summer destination, called 'Talma Active Park', including many activities like paintball, climbing park, minigolf, frisbee golf and Werneri Park. Photos: LikeFinland.com (in winter 2020)
❄❄

Talma Ski contact info:
Talma webpages in English (incl. opening times in March 2020)
Tickets +358 (0)400 716 882 info(at)talmaski.fi
Rental and Ski Shop +358 (0)400 716 866
Ski School +358 (0)44 574 9070, hiihdonopetus(at)talmaski.fi
Restaurant +358 (0)400 716 856, ravintola(at)talmaski.fi
Talmantie 341
04240 SIPOO
(for navigator: Norantie 1, Sipoo)
Talma @ Facebook (www)
Talma @ Instagram (www)
❄❄
Text and photos: Henri Elo / LikeFinland.com
--
Sipoo municipality, Talma Ski and Guesthouse Box & Handelsmans Café are the Star Destinations and media customers of LikeFinland.com in Sipoo.
LikeFinland.com is a nationwide leisure time media and search service of Finnish destinations. You can like us on Facebook or follow on Twitter and Instagram. Our main website in Finnish is KivaaTekemista.fi.