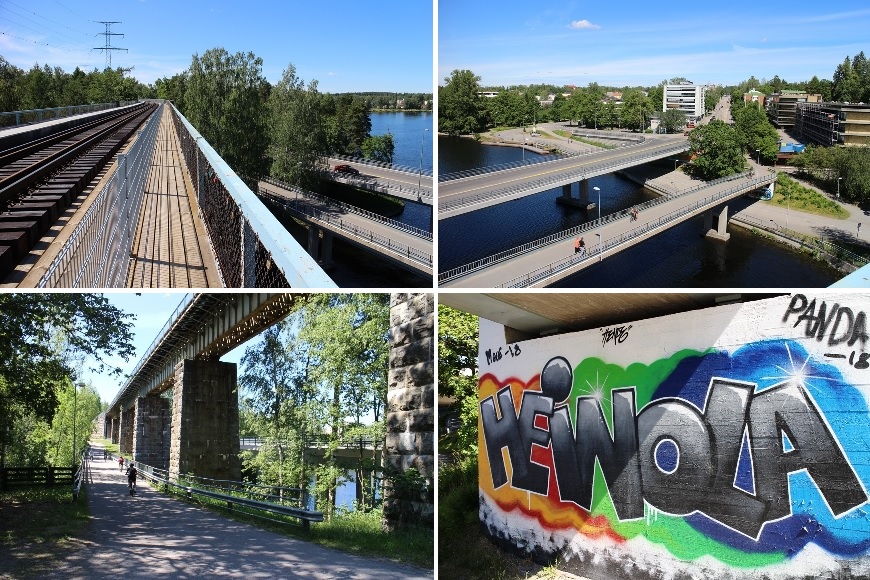 Every traveller on motorway 4 in Finland knows the Tähtiniemi bridge. The bridge is magnificent, but there is so much more in the city of Heinola, when the traveler peeks deeper.
M/S Suomen Neito (Päijänne Cruises Hilden) arriving to Heinola. On the right Restaurant RantaCasino. Photo: LikeFinland.com
Heinola is a town of great bridges, ridges, and of course Kymijoki river with its boat rides. Heinola has also a long history, as it has been the center of Kymenkartano County in the 18th century. As a reminder of that time, there is the Aschan's house, one of the Heinola museum sites at Kauppakatu 3, open to the public during the summer season, Tue-Sun 11-16 and Wed 11-18, which is really worth visiting.
Without history, there would have been no such museums and historic cafés in Heinola as there is. In the city, there has been a teacher seminar, as well as a bathing facility, where Russian aristocrats arrived for holidays at the turn of the 19th and 20th centuries. Of course, you can still take a bath - good places for swimming are for example the Spa beach (Kylpylän uimaranta) in the center, next to the RantaCasino Restaurant, or Kumpeli Spa.
RantaCasino Restaurant, which is a Star Destination at LikeFinland.com, is located in the center of Heinola, by the river of Kymijoki. The restaurant organizes music evenings and serves lunch and even theater menus! RantaCasino has been renewed and expanded in recent years.
From RantaCasino our journey continued to Siltasaari island and Café Kailas, which is named after Uuno Kailas, a famous hymn writer in Finland. Café Kailas is also our Star Destination and arranges numerous summer events! The Siltasaari café building, Café Kailas, is a former sauna, built by Niilo Helander to his wife, approximatily a hundred years ago. The main house, a large villa, was destroyed in Continuation War, but the foundations of the building can also be found in the tiny, idyllic Siltasaari.
Café Kailas and its owner Päivi Niemiaho. Delicacies come mainly from local producers. In the picture, delicious ham pie and refreshing lemon ginger ice tea. Photo: LikeFinland.com.
One more Star Destination of ours, Harjupaviljonki café, is nowadays a waffle cafe. Originally, the building was a place for resting and staying of the important spa guests. And when a visitor comes to Harjupaviljonki today, there is no wonder why the Russian spa guests wanted to stay here early in the 20th century. Up there, there is no mosquitos and the view down to Jyrängönvirta (part of Kymijoki River) is magnificent. Harjupaviljonki also arranges lovely music nights. Wonderful music evenings are becoming increasingly part of the café's atmosphere!
What a view from Harjupaviljonki terrace! Owner Anne Koski below on right. Photo: Likefinland.com
Finally available - Heinola's travel packages!
One of our Star Destinations in Heinola, magnificent Villa Hulda, is a cozy, spacious accommodation for two families or a group of friends. It is located in a quiet area, about 1 km from the center of Heinola. Pets are also welcome.
The same entrepreneur, Elina Hynninen, who owns Villa Hulda, offers now new travel packages. Heinola Travel has developed a range of affordable travel packages for groups!
For example, Heinola Travel connects visitors to the summer theater with meals, coffee, guided tours as well as accommodation if needed - according to the customer's needs. It is wise that Elina also cooperates with other accommodations. In addition to Villa Hulda, the range includes: Kumpeli Spa, Hotel Valo / Nowene Spa and Cronin's Guesthouse.
Villa Hulda is a 4-star accommodation for self-catering guests, breakfast on request. Puistokatu 20, Heinola. Photo: LikeFinland.com
We are positively surprised that new travel packages make Heinola even more attractive! More about Heinola Travel (www)
P.S: When you visit Heinola, don't miss Heinola Art Museum's summer exhibition! It is about Heinola's masters.
"Exhibition of works by artists who portrayed Heinola or lived in the city, from the late 19th century to the 1970s. The exhibition celebrates the 180th anniversary of the city of Heinola."
Text: Anne Kinos-Järvinen / Original Finnish text Henri Elo


Contact Information:
Café Kailas (www)
Siltasaari 1, 18100 Heinola
p. +358 (0)44 74 77 001
info(a)kailas.fi
Heinolan Harjupaviljonki (www)
Kauppakatu 30, 18100 Heinola
p. +358 (0)40 5619 522
harjupaviljonki1(a)gmail.com
RantaCasino (www)
Maaherrankatu 2, 18100 Heinola
p. +358 (0)40 192 1027 / 03 718 8666
info(a)rantacasino.fi
Villa Hulda (www)
Puistokatu 20, 18100 Heinola
p. +358 (0)40 726 5582
info(a)villahulda.fi
- More about Heinola destinations and events (www)
- Our article in English of Heinola 2018 (www)
Heinola has been chosen as the Destination of the Month in LikeFinland.com in July 2019. Harjupaviljonki, Café Kailas, RantaCasino and Villa Hulda are Star Destinations and Media Customers to LikeFinland.com.